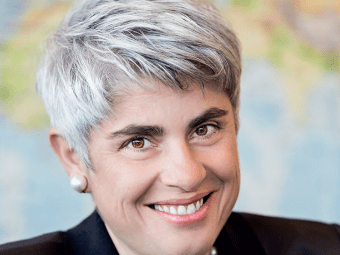 Photo: Angeliki Frangou, Chairwoman, CEO of Navios Partners
Angeliki Frangou-led Navios Maritime Partners modernizes its fleet by selling old vessels and taking delivery of two newbuild vessels, while it has an increased revenue and net income.
Navios Maritime Partners managed to increase its profitability in the first quarter, helped by capital gains from several ship sales and strong earnings.
Angeliki Frangou confirms net income of $99.2m for the first three months of the year, 15.8% more than in the same period last year and revenue of $309.5 million, a 30.8% increase compared to the first quarter of 2022.
The New-York listed owner and operator of dry cargo and tanker vessels completed the sale of eight vessels for $160.3 million in the first quarter of 2023. The company offloaded the Nave Cosmos, the Nave Dorado, the Nave Polaris, the Star N, the Navios Amaryllis, the Jupiter N, the Navios Prosperity I and the Nave Photon, to various unrelated third parties.
It also confirms several agreements for the sale of five vessels for $81.9 million which are expected to close in the second quarter of 2023. The sale deals involve the ships Lumen N, a 2008-built LR1 Product Tanker vessel of 63,599 dwt for a sales price of $22.3 million, the Navios Anthos, a 2004-built Panamax vessel of 75,798 dwt for $11.0 million, Navios Libertas, a 2007-built Panamax vessel of 75,511 dwt for a sales price of $13.8 million, Serenitas N, a 2011-built Ultra-Handymax vessel of 56,644 dwt for $12.3 million and also the Aurora N, a 2008-built LR1 Product Tanker vessel of 63,495 dwt for $22.5 million.
The sale of Lumen N is expected to be completed during the second quarter of 2023. The sale of Navios Anthos was completed on May 3, the sale of Navios Liberta was finalised on May 4, the sale of Serenitas N was completed on May 16 while the vessel Aurora N has been sold since 5th of April.
Angeliki Frangou noted that "We are focused on reducing our leverage rate. We are modernizing our fleet by selling old vessels and acquiring new vessels and managed our net LTV down to about 42% in the first quarter of 2023 from about 45% in the fourth quarter of 2022, measured for vessels in the water. Our stated goal is to continue to reduce leverage so that our net LTV falls within the range of 20% to 25%."
Navios Partners also added to its fleet portfolio two 2023-built Capesize vessels, the Navios Sakura of 182,169 dwt and the Navios Altair of 182,115 dwt, respectively.
The company also entered into long-term charters for one LR1 Product Tanker, one MR2 Product Tanker, six 4,250 TEU vessels and one 3,450 TEU vessel, which are expected to generate revenue of $161 million.