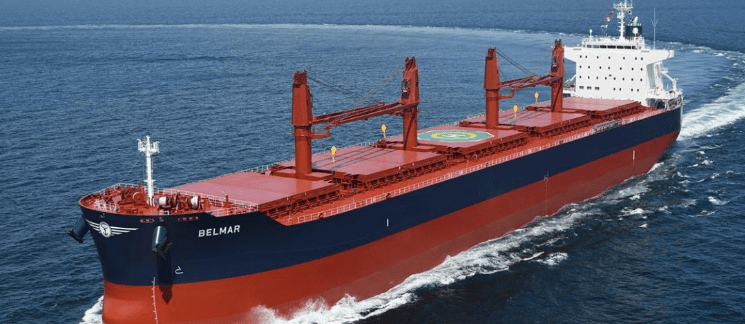 Photo credit: Belships
Belships strikes a high number of fixed period time-charter contracts at levels above current market rates. The shipowner reported time charter equivalent earnings per ship in the quarter at USD 20 559 gross per day.
The company has continued to add new period time charter contracts increasing the coverage for the year 2023 and also for 2024. Four vessels were drydocked in the quarter, and the remaining fleet sailed without significant off-hire with a total of 2 678 on-hire vessel days in the first quarter of 2023.
The Oslo-listed shipowner recorded $27.8m in net profit for the first quarter of 2023, compared to a net result of USD 59.5m for the same period last year. The extraordinary result in the year before was mainly caused by higher market rates and significant realised gains on the sale of two vessels, as the company explains.
Despite lower market rates, the net freight revenue was USD 51.4m, largely unchanged from USD 54.3m in the first quarter of 2022. This is due to fleet growth in the period and significant contract coverage securing stable earnings.
Furthermore the company announced the acquisition of four new 64 000 Ultramax bulk carriers which are being constructed at Japanese shipyards. The delivery of the newbuild vessels will take place in 2024-2026.
It's worth noting that in January 2023, the BELMONDO, an Ultramax newbuilding of 64 000 dwt, was delivered to Belships from Imabari Shipyard in Japan.
The Japanese-designed bulk carriers entering the fleet represent the highest quality and lowest fuel consumption available in the market today and will contribute to reducing Belships carbon emissions on an intensity-basis, says the owner.
The vessels are fully financed through time charter lease agreements, each for a period of 7 up to 10 years, with purchase options at current market levels during the charter.
"There is no obligation to purchase the vessels and Belships is not required to make any down payment for these transactions. Cash breakeven for the vessels upon delivery will be about USD 14000 per day," said Norway´s shipowner in the quarterly 2023 report.