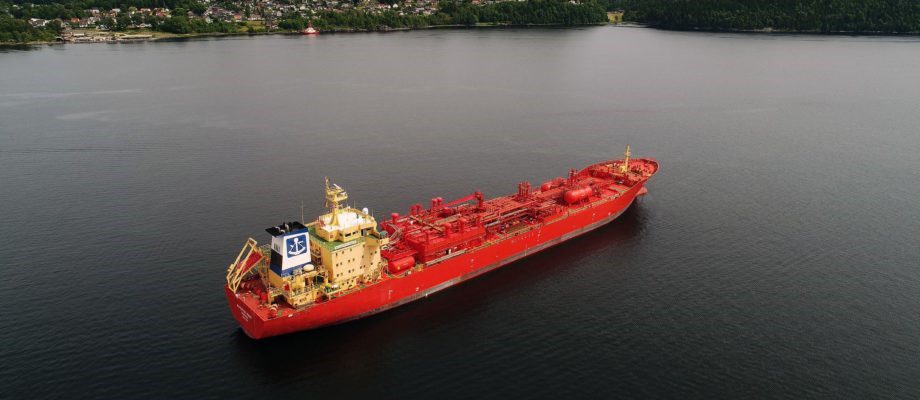 Photo credit: Navigator Gas
The shipowner and operator of handysize liquefied gas carriers Navigator Holdings notes that charter rates for the handysize LPG vessel segment continued an upward trajectory through the first quarter of 2023.
The company attributed the continued robustness of all handysize vessel sub-segments to the geopolitical conflict around Ukraine, a conflict which continues to disrupt traditional ammonia trade flows.
The Ukrainian port of Yuzhnyy, which historically exported approximately 10% of the world's seaborne ammonia, remains out of operation.
In addition, ammonia originating from the Russian Baltic Sea area continues to experience delays and therefore European ammonia consumers were sourced the commodity from further distances, increasing ton mile and thus increasing the demand for handysize shipping.
However, European ammonia demand has declined during the past month due to the normalization of natural gas prices, although the increased ammonia ship demand within the handysize segment has remained.
As it is explained, the U.S. continues to export record volumes of LPG, increasing week on week, compared to the same time period last year. The U.S. exported a record 5.5 million tons of LPG during March 2023, providing improved employment opportunities across all the gas carrier segments.
Finally, North American ethane remains competitively priced enabling a sustainable floor for cheap domestic production of ethylene.
Meanwhile, the shipowner and operator Navigator Holdings continues to offload its elderly vessels.
The New-York listed company said its oldest vessel, Navigator Orion, a 2000 built 22,085 cbm ethylene capable semi-refrigerated handysize carrier is being sold for $20.9 million. The buyer has not been disclosed.
The shipowner also announced that its Navigator Greater Bay Joint Venture acquired a further four vessels.
Specifically its Joint Venture acquired a further four vessels, a 17,000 cbm, 2018-built ethylene capable liquefied gas carrier, Navigator Solar and three 22,000 cbm, 2019-built ethylene capable liquefied gas carriers Navigator Castor and Navigator Equator during the first quarter, and the vessel Navigator Vega on April 13.