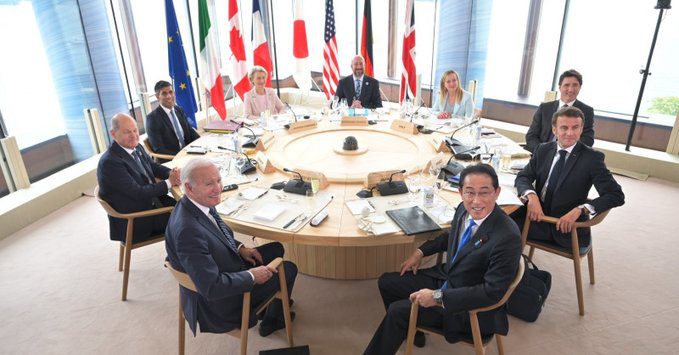 Photo credit: europa.eu
Leaders of the Group of Seven (G7) nations are discussing further measures against Russia. A new package of EU sanctions against Russia was proposed by the European Commission. The European Commission President Ursula von der Leyen confirmed that EU Commission proposed an 11th package of sanctions.
"We are sharpening our existing tools, adding more products to our transit ban. We are proposing a new tool to combat sanctions circumvention, and also to ban "shadow" entities from Russia and third countries that are intentionally circumventing our sanctions," she explained, speaking in Kyiv earlier this month alongside Ukraine´s President Volodymyr Zelenskyy.
The information for the new measures against Russia is circulated in various media, but an official announcement on the shipping-related sanctions from the group is expected later this month. There are hopes of tackling the 'shadow fleet' which illegally transporting Moscow's crude and member states urge for new measures in order to crackdown the Russian ship-to-ship transfers.
"Leaders of the Group of Seven (G7) major industrial countries on Friday vowed to tighten sanctions on Russia," Germany's international broadcaster Deutsche Welle (DW) reported today, adding that the leaders, during talks in the Japanese city of Hiroshima, "vowed to stand together against Russia's illegal, unjustifiable, and unprovoked war of aggression against Ukraine," as said.
As it is reported, the Group of 7 major industrial nations in a joint statement said they were "imposing further sanctions and measures to increase the costs to Russia and those who are supporting its war effort."
President Ursula von der Leyen said today "as long as it takes must be our common theme in support of Ukraine. To provide the necessary military support, to ensure economic resilience and tightening sanctions focused on circumvention."
On Twitter, UK Prime Minister Rishi Sunak announced a ban on Russian diamonds, copper, aluminium and nickel.
"Sanctions are having a clear impact in degrading Putin's war effort," he said today.
"The G7 focus is and always has been on promoting peace & global economic security. This year will be no different, I want to seize this opportunity to boost economic growth, show Putin that the G7 stands by Ukraine and bolster peace and security in the Indo-Pacific," he furthermore said.