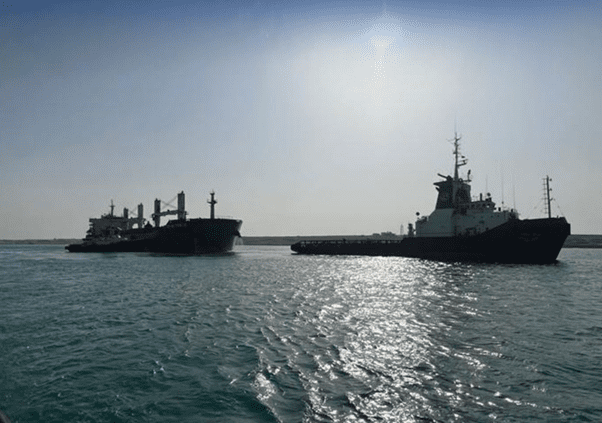 Photo credit: Suez Canal Authority
A Hong Kong-flagged cargo ship experienced an emergency breakdown of the machinery while it was crossing the channel within the South convoy on its journey from Saudi Arabia to Egypt.
The Xin Hai Tong 23 got into trouble with the engine failure during its transit through the Canal among northbound convoy amid its journey from Saudi Arabia to Egypt. The Suez Canal authority conveys an assurance message "that the navigation was resumed normally in both directions once the vessel was towed as a precautionary measure aimed at ensuring the safety of navigation."
As a result of the incident, the Suez Canal Authority deployed a salvage team and three tugs to deal with the incident of the general cargo vessel's engine failure.
The situation, however, was resolved quickly. Just a few hours later, the Suez Canal Authority said: "the salvage works handled successfully and in a professional manner the incident of engine failure of the general cargo vessel Xin Hai Tong 23."
The vessel is now being towed to the Suez Anchorage Area assisted by three tugs, as reported by the Suez Canal Authority earlier today.
The vessel, which flies the Hong Kong flag stands at 190-meter overall length, 32-meter beam, and a tonnage of 34 thousand tons.
The SCA chairman of the authority Admiral Ossama Rabiee, highlighted that once the Central Navigation Control Center received the notice of the vessel's engine failure and anchor dropping at Km 157 Canal marking, three tugs were deployed on the spot along with the salvage team to tow the vessel.
"The three tugs were "Ezzat Adel of 160 tons' bollard pull capacity" and the other two tugs "Suez 1" and "Suez 2" each of 75 tons' bollard pull capacity to start connecting the towline to the vessel, however; the vessel's anchorage winch broke down causing the incapability of lifting the anchor, therefore hindering the towline connecting process. Once the winch was repaired, the anchor was lifted, the towlines were connected successfully, and the vessel was towed successfully," said earlier today.