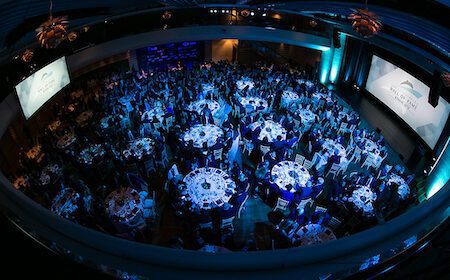 Photo credit: Greek Shipping Hall of Fame
The Greek Shipping Hall of Fame has announced that this year's annual Induction Ceremony will take place as an outdoor dinner event on the evening of Wednesday 5 July 2023 at Megaron, The Athens Concert Hall.
The Induction Ceremony & Dinner 2023 will celebrate the industry's leadership, history, and culture during a unique evening which is recognised as Greek shipping's most prestigious annual dinner event.
The Greek Shipping Hall of Fame is an independent, not-for-profit organisation, dedicated to the dynamic Greek shipping industry and individuals who have helped to shape it. It began in 2007 as an idea and today it includes 28 personalities who have made their mark on Greek and world shipping.
Caroline Lowry, Director of Phoebe Media & Events Ltd, the exclusive event organiser comments: "We look forward to welcoming event sponsors and their guests as well as other senior figures in Greek and international shipping to this year's Induction Ceremony & Dinner to honour the Hall of Fame's Inductees."
The Induction Ceremony 2023 will feature an exciting and unique programme of content, celebrating the 36 shipping 'greats' already inducted as well as unveiling the latest Inductees – the 2022 Inductees, as it is mentioned by the organisation.
Greek children's charity Hellenic Hope will again receive a donation from the event proceeds to support its work with Greek NGOs across a range of children's projects.
Christopher J. Wiernicki, ABS Chairman, President, and CEO comments: "ABS is a proud, long-standing partner to Greek shipping. We have worked with many of the legends of the Greek Shipping Hall of Fame and seen at first hand their incredible energy, entrepreneurial spirit, and inspirational achievements. We stand ready to support the next generation who will continue their legacy."
Theo Xenakoudis, Director – Worldwide Business Operations & Managing Director Greece, International Registries Inc. comments: "The Greek shipping community continues to be a pioneer in sustainability, efficiency, and moving global trade. International Registries, Inc. (IRI) and the Marshall Islands Registry are privileged to celebrate the latest honourees to the Greek Shipping Hall of Fame for their spirit of innovation and advancement."
Wang Qi, Chairman of Shanghai Waigaoqiao Shipbuilding, comments: "SWS looks forward to being in Athens this summer to attend the 2023 Greek Shipping Hall of Fame Induction Ceremony & Dinner. It will be a great pleasure to meet with all of our Hellenic and international industry friends to celebrate the lifetime achievements of the Hall of Fame's Inductees. The ambition, dedication, and leadership of great figures from the past inspires all of us at SWS to continue to tackle the challenges of today and tomorrow. We cherish more than 20 years of close friendship with the Greek shipping community, and we remain dedicated to provide low carbon, high efficiency, smart and safe shipping solutions."