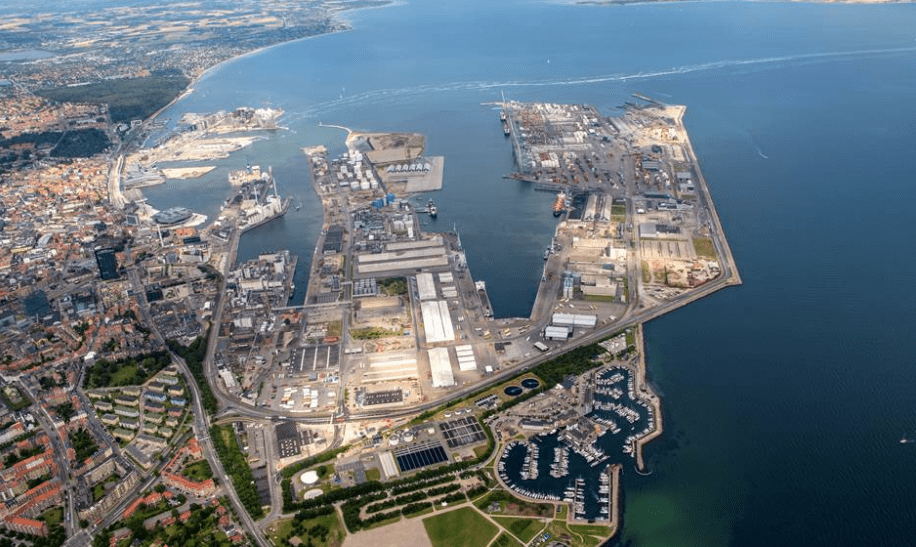 The port expansion in Aarhus becomes a reality after the political agreement reached by a majority in Aarhus City Council. The agreement meets the need for more area, and port capacity close to the quay at Denmark's largest commercial port. It is an agreement that balances many considerations and boosts the green ambitions, says the Port of Aarhus.
In this process there have been many dilemmas to be weighted. In accordance with the port director Thomas Haber Borch the outcome of the negotiations is not what they have expected and hoped for, as there will be adjustments in the project. However, the port management believes that the project can still meet the expected needs.
Five years have passed since the Port of Aarhus requested approval from the city council to build The Outer Harbour. Along the way, Aarhus Municipality has initiated an extended involvement process and not least an extraordinary citizen involvement, which has qualified the decision-making basis.
However, the political decision entails adjustments in the project, as the political majority has decided to reduce the port capacity and the quayside area in stage 2, so that the total port expansion is now around 80 hectares, against the 105 hectares in the original application. In addition, it has been decided to change the pier building, just as restrictions have been placed on construction on the future area, as the port of Aarhus says.
"There are many attitudes and feelings at stake in this project. I have deep respect for the great commitment that has taken place throughout the process. This applies not least in the extended involvement process, which, I believe, has been valuable and contributed to a stronger project," says the port director Thomas Haber Borch.
The agreement reached also contains a number of green measures to make the construction of the port expansion CO2 neutral.
"We had of course hoped that the outcome of the political negotiations would have been more similar to our application. But I recognize the many considerations, interests and dilemmas that had to be weighed. We are now starting to adjust and adapt the project, which overall results in a smaller and differently designed port extension than we had applied for. However, I still believe that it can meet the need for area and quayside port capacity, and I am satisfied with that", says the port director Thomas Haber Borch.
The port director emphasises in the importance of a port expansion with a focus on the climate, and the green transition, as in the project there are initiatives that have probably not been seen in construction projects before. "We are ready to take the lead and fulfil the great green ambitions in the agreement," as he says.