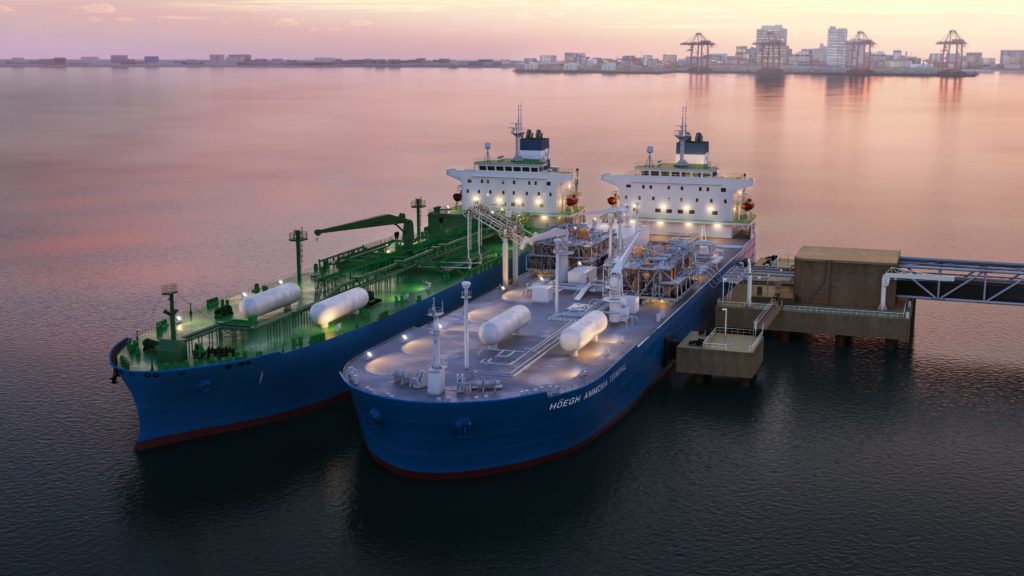 Image caption: Höegh LNG©Höegh vessels
Norway´s Höegh LNG owner and technology group Wärtsilä have secured €5.9 million funding from the Norwegian Government's green platform programme for a major clean energy project. The objective of the project is to enable ammonia to be converted back to hydrogen at the receiving destination.
A system will be developed to convert ammonia to hydrogen in a process that can be installed onboard a floating terminal to be owned and operated by Höegh Floating terminals. The funding will go into developing a solution using ammonia as a hydrogen carrier for the energy market.
The grant will provide approximately 50% of the total budget. Additional partners in the project include the Institute for Energy Technology, University of South-East Norway, Sustainable Energy and BASF SE.
The project will seek to increase the viability of using hydrogen as a replacement for fossil fuels.
"As a world-leading provider of fast-track floating LNG terminals, we have technology and competence essential to developing a strong clean energy value chain. We are excited to be at the forefront of the energy transition beside our partners and the Norwegian Government, and look forward to applying our experience and resources to this important project," said Erik Nyheim, CEO and President of Höegh LNG.
From his side Walter Reggente, Vice President of Wärtsilä Gas Solutions, said "This important project is a natural extension of the investments and efforts made by Wärtsilä to accelerate the use of decarbonised energy. Hydrogen will play a considerable role in future renewable fuel consumption, and there is a clear need for the development of Ammonia as a storage and transportation carrier for hydrogen."