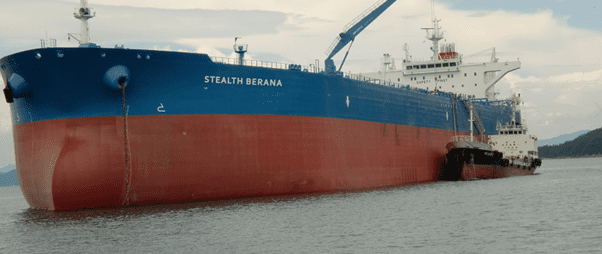 Photo credit: Imperial Petroleum
Imperial Petroleum, a ship-owning company providing transportation services led-by the Greek Harry N. Vafias, has managed to repay in full its loan ahead of time.
The Nasdaq-listed company said in a statement on Monday that has recently repaid early and in full the $23.2 million outstanding loan with DNB ASA Bank.
Imperial´s loan was secured with first priority mortgages against the product tankers "Magic Wand" built in 2008, the 46,000 deadweight "Clean Sanctuary" built in 2009 and the 47,000 deadweight "Clean Thrasher" and against the company´s Aframax tanker the "Stealth Berana", a crude oil tanker built in 2010.
As the company claims after this loan repayment Imperial Petroleum's total debt is in the region of $45 million.
Imperial Petroleum, a ship-owning company providing petroleum products, crude oil and drybulk seaborne transportation services, owns a total of twelve vessels. Specifically, five M.R. product tankers, one Aframax oil tanker, two Suezmax tankers and four Handysize dry bulk carriers, with a total capacity of 808,000 deadweight tons.
The top management of the company estimates Imperial Petroleum's Net Asset Value (NAV) to be $338.6 million, which is approximately 717% above its current market capitalization. The NAV which includes total outstanding cash of $142.2 million is increasing daily on account of the record net cashflow contributed by the company´s tankers.
"This translates into a NAV of $1.39 per common share currently outstanding and $1.17 per common share on a fully diluted basis (assuming exercise of all outstanding warrants for cash)," as Imperial writes in a press release.
Chief Executive Officer Harry Vafias says the market outlook for 2023 for tankers looks promising and the company is "set to capture the continuing favorable charter market environment, as well as the acquisition opportunities in the tanker, and dry bulk sectors," as he characteristically mentions in the company´s financial results for the year 2022.