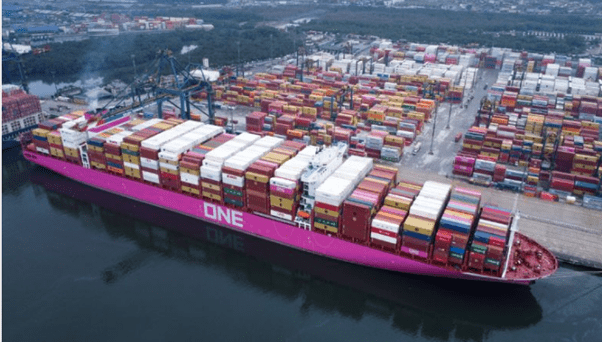 Ocean Network Express (ONE), a new entity from three Japanese liner companies 'K'​ Line, MOL and NYK, has ordered ten new large 13,700 teu container vessels to be delivered in 2025 and 2026.
This new order follows the 10 vessels ordered in May last year. The 10 new vessels will be ready for methanol and ammonia and equipped with a bow cover and other energy saving technologies. ONE has also started discussions with the shipyard and equipment manufacturers to implement onboard carbon capture and storage on delivery.
The Singapore-based ONE is investing in greener assets and technologies as the company aims to achieve carbon neutrality by 2050.
As it is said today by ONE "By ensuring a stable deployment of new, state-of-the-art container vessels without constrained by short-term fluctuations in the container market, the company aims to strengthen its fleet competitiveness and meet customer demand for building and maintaining an efficient and reliable supply chain."
The Japanese new entity has signed last year major ship building contracts for ten very large container ships with both Hyundai Heavy Industries and Nihon Shipyard to construct 5 vessels each, adding a total of ten modern very large container ships (VLCS) to ONE's fleet.
These ships have a nominal capacity of more than 13,700 teu and are to be delivered in 2025. Two new building vessels of 12,000 teu (long-term chartered vessels) have also been delivered as planned (Aug-Sep 2022), in accordance with the company.
The company has also made a strategic move through the acquisition of 3 container terminals in the US West Coast. ONE has signed definitive agreements to acquire a 51% stake in each of TraPac LLC and Yusen Terminals LLC in December.
These acquisitions will safeguard ONE's access to terminal capacity in the strategic gateway as the recent disruptions to the supply chain, due to Covid-19, have highlighted the importance container terminals play in keeping global trade flowing.