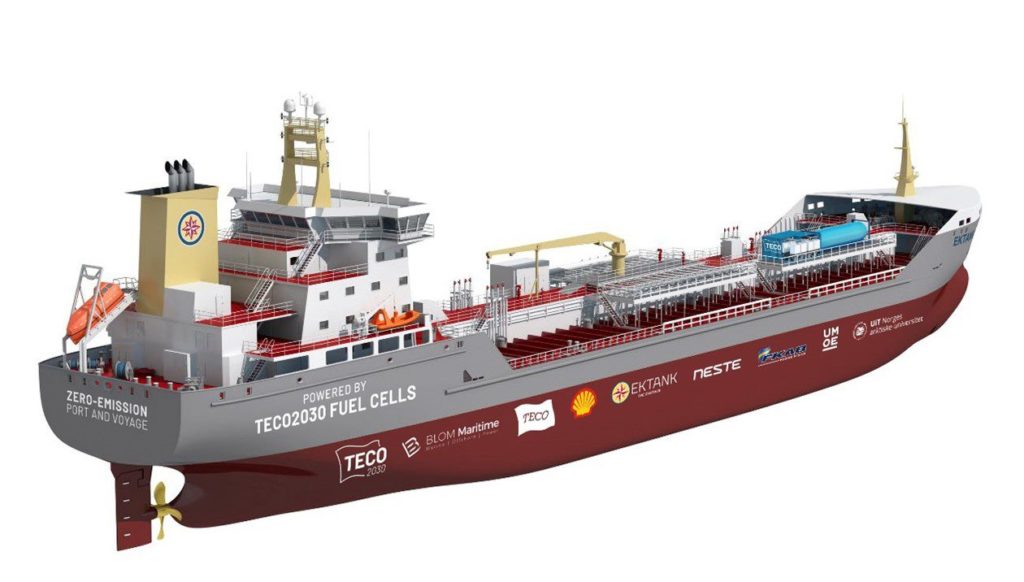 The Oslo Stock Exchange-listed company TECO 2030, Shell and partners have been invited for HORIZON EUROPE funding of EUR 5 million to realise the hydrogen powered tanker concept, HyEkoTank. The HyEkoTank project will retrofit a 18.600 DWT product tanker with a 2.4 MW fuel cell system by TECO 2030 and 4000 kg compressed hydrogen storage for demonstration in 2024.
It was mentioned by TECO 2030, that all parties in the consortium have now signed the Grant Agreement Declaration of Honour, stating that the involved companies are committed to participate in the project, and that plans are scheduled for project start-up by February 1st, 2023.
In addition to TECO 2030, the HyEkoTank project involves partners like Shell International Trading and Shipping Company Limited, Shell International Exploration and Production BV, Ektank AB, Blom Maritime AS, TECO Solutions AS, Umoe Advanced Composites AS, FKAB Marine Design, Neste Oyj, and finally The Arctic University of Norway.
It is stated by TECO 2030, that the HyEkoTank hydrogen powered tanker will demonstrate zero emission at berth and 60% reduction of Greenhouse gas emissions during voyage. As mentioned by the company, this project could become a first mover in this maritime shipping segment and contribute to achieving the ambitious climate targets set by the European Union.
Source: Teco 2030