Shanghai Waigaoqiao Shipbuilding Co., Ltd., a subsidiary of China State Shipbuilding Group, and China State Shipbuilding Industry Trading Co., Ltd., successfully named and delivered the second 7000 TEU container ship for Singaporean shipowner X-Press Feeders.
This is another 7000 Teu box container ship delivered by Waigaoqiao Shipbuilding to the owner in four days and was named "X-Press Capella" it was stated.
Chen Gang, General Manager of Shanghai Waigaoqiao Shipbuilding Co., Ltd., expressed his heartfelt thanks to X-Press and Mr. Schumur Joskovic, CEO of X-PRESS.
He said "that as the latest generation of container ship products of Waigaoqiao Shipbuilding, X-Press Capella has achieved a balance between environmental sustainability and operational excellence through the application of advanced technology equipment such as line optimization, vibration and noise reduction, low-energy main engine, and high-efficiency propeller. As one of the most important partners of Waigaoqiao Shipbuilding, we hope to achieve more in-depth cooperation with X-PRESS in the field of decarbonized shipping, and create higher performance and economic benefits for each other on the road of green shipping transformation."
Schumur Joskovitz expressed his gratitude to Waigaoqiao Shipbuilding, CSSC Trading, Shanghai Shipbuilding Design and Research Institute, etc. He said "that today's X-Press Capella delivery is an important milestone for X-PRESS, which has the confidence to win the new field of 7000 TEU container ships."
"Capella" adopts an environment-friendly design concept, installs an open desulfurization tower, and the ship's energy efficiency design index meets the requirements of the third stage of EEDI, and is a new generation of "green, environmentally friendly, energy-saving and safe" medium-sized container ships.
Compared with the older generation of medium-sized container ships, this ship type has advantages in flexibility, fuel consumption index and packing number, and is generally favoured by ship owners the shipyard said.
The ceremony was also attended by representatives from Bian Bank (China) Co., Ltd., KfW Bank, AIIB, Cliff Capital, Deka Bank, Yushan Bank and other companies, as well as heads of relevant departments of Waigaoqiao Shipbuilding.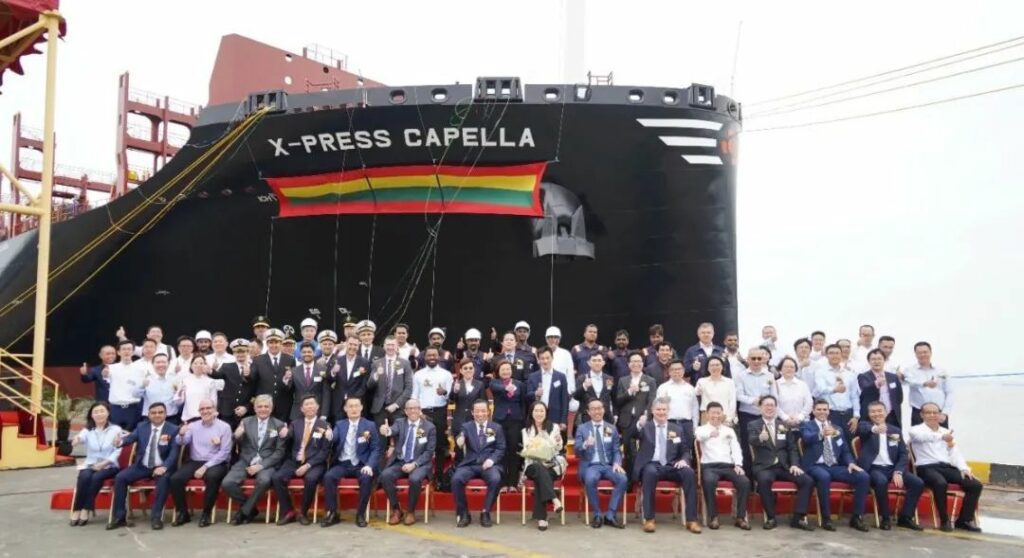 Photo credit: Shanghai Waigaoqiao Shipbuilding