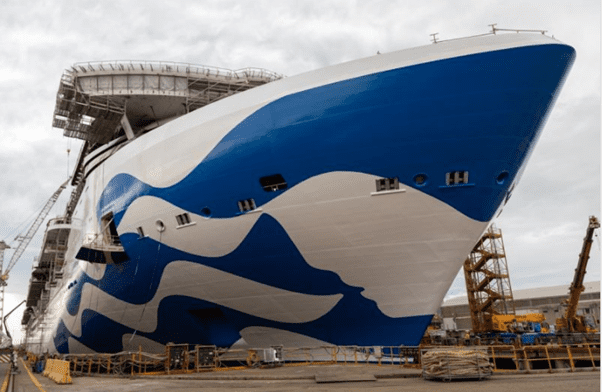 Italy's shipbuilder Fincantieri floated out "Sun Princess", its first of two LNG (liquefied natural gas) cruise ships for Princess Cruises.
At 175,500 gross tons "Sun Princess" is the largest ship built so far in Italy, as well as the first LNG cruise ship ever built by Fincantieri, and the first dual-fuel vessel powered primarily by LNG to enter Princess´ fleet.
The newbuild ship will be delivered in the first quarter of 2024 and starts the Sphere class, which includes a sister-ship to be delivered in 2025.
The "Sun Princess" and its sister-ship will each accommodate approximately 4,300 guests and are based on a next-generation platform design.
One of the best-known names in cruising, Princess Cruises is a world leading international cruise line and tour company operating a fleet of 15 modern cruise ships, carrying millions guests each year to 380 destinations around the globe.
Fincantieri stays active with many projects in its portfolio and one of them is the recent MoUs (memorandum of understandings) signed with potential new Greek suppliers, setting the basis for defining possible long term business relationships.​ Italy´s shipbuilder Fincantieri and Leonardo, a global high-technology company in Aerospace, Defense and Security and Italy's main industrial company, signed multiple memorandum of understandings with potential new Greek suppliers.
The collaboration is a further step in the empowerment of the Greek defence production, and this agreement comes after the deal between Fincantieri and the Greek Onex Shipyards and Technologies Group last December, for the creation of a corvettes manufacturing line and their life-cycle support base, that will be located at Onex Naval and Maritime Elefsis Shipyards, in Greece.
The agreement provides the terms of collaboration for the construction of "2+1 state-of-the-art technology", as the company characterises it, and top-standard corvettes at Onex Elefsis Shipyards along with the necessary upgrades, improvements, know-how and transfer of technology, equipment, which are estimated at approximately euro 80 millions. It is expected to generate the creation of 2.500 direct and indirect new jobs in the shipbuilding industry.
The deal constitutes a cooperation with multiple benefits for the Greek economy and defence sector, while enhancing the prospect of further cooperation between the two Groups in future construction programs of warships and commercial ships, as Fincantieri claims.