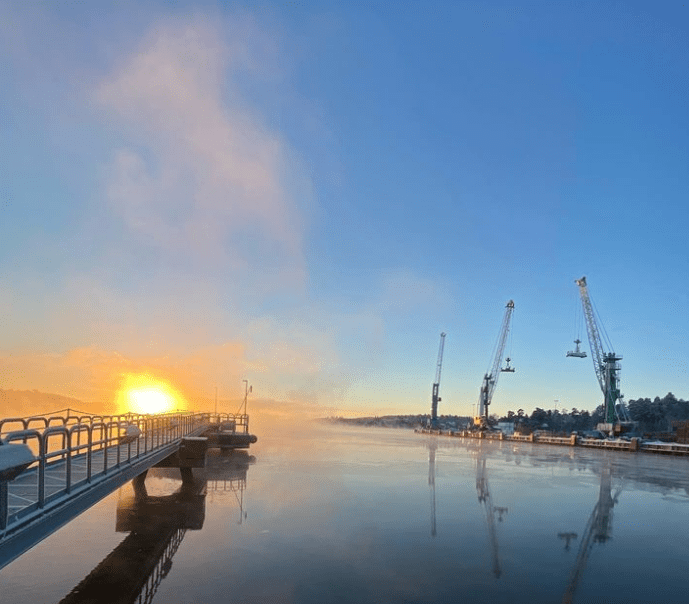 Södertälje in Sweden wants to become a climate-neutral municipality and a leader in Europe in sustainable freight transport by 2030. Södertälje Municipality and Södertälje Harbor receive SEK 11 million in EU grants to investigate the possibilities of moving more freight transport from road to rail and shipping.
Freight transport in Europe needs to become more sustainable and this investment we are making in Södertälje increases the competitiveness of business both locally and in the larger region. With this, we are strengthening Södertälje as one of the up-to-date freight areas in Europe.
It is gratifying that the EU sees the same opportunities in Södertälje as we ourselves have done for a long time, says Alexander Rosenberg (M), chairman of the technical committee, Södertälje municipality.
At the turn of the year, Södertälje Municipality and Södertälje Harbor made a joint application to the EU fund CEF (Connecting Europe Facility), or the Fund for a Connected Europe. The application concerns a feasibility study on infrastructure improvements planned by the actors. It should also show how they can interact better and together develop sustainable freight transport solutions.
The ambition is for Södertälje to become one of Europe's leading examples of sustainable freight logistics. The EU has now granted the grant of SEK 11 million. Södertälje is the only project in Sweden that was granted the EU grant.
Södertälje is absolutely the right city for a venture like this. We are the only city in greater Stockholm, in fact in the whole of eastern Central Sweden, which has a port with railway and motorway connected to the business area and a combi terminal, says Andreas Klingström, Director of Community Development, Södertälje Municipality.
Södertälje has an excellent location for logistics, with waterways, a port, railways, motorways and the large operating area Stockholm Syd/Almnäs. In the municipality, there are companies with a focus on freight handling and goods distribution, and companies with a leading role in developing future fossil-free freight transport by road.
Over the next few years, sub-projects are planned with several actors with the aim of improving the infrastructure, strengthening Södertälje's attractiveness and meeting future demands for more sustainable freight transport.
Transporting goods by sea is a sustainable alternative, while we must develop an infrastructure to meet future customer needs. This investment ensures the port's position as the region's freight hub in the future as well, says Måns Frostell, CEO, Södertälje port.
The preliminary study will primarily show the possibilities and costs of strengthening the quay's capacity to receive more goods, connect ships to power on land and build a new electrified railway.
It will also study the conditions for the development of the combi terminal. In a second step, it involves, among other things, looking at charging stations for national freight traffic on the E4 at Södertälje South and building the transport link.
Video credit: Södertälje Hamn