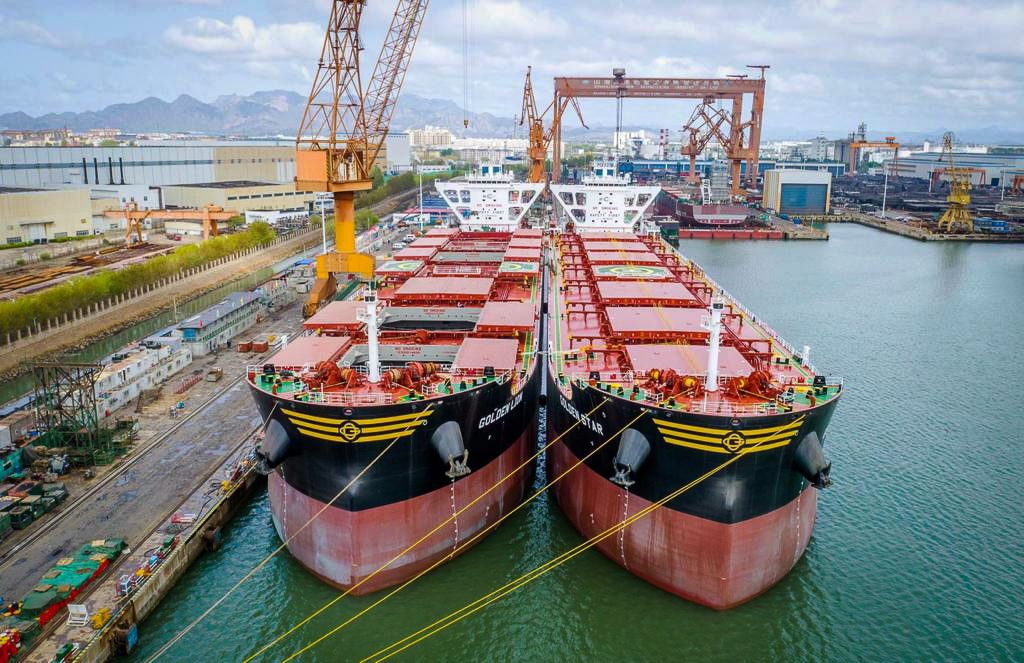 Photo credit: Golden Ocean Group
Oslo-based Golden Ocean Group, a dry bulk shipping company, is expanding its fleet portfolio with the addition of two new vessel. The company took recently delivery of the 85,000 dwt panamax Golden Star and the panamax Golden Lion also of 85,000 dwt.
The Nasdaq and Oslo-listed company operating in the Capesize and Panamax segments said its news vessels are the first two in a series of ten. Furthermore it added that both ships had about 280 construction days from start to delivery, with an average of 440 people per day.
"That's about 1 million working hours. We used about 11,200 tons of steel and 220,000 liters of paint for hull, cargo holds, deck and accommodation," the dry bulk shipowner said.
In its financial report for the first quarter the shipowner noted that the company took delivery of the first of 10 kamsarmax newbuildings, it made a deal to buy six modern newcastlemax vessels, while it entered into an agreement to sell its two older capsize vessels, Golden Feng and Golden Shui to an unrelated third party in the price of $44.0 million. The buyer has not been disclosed.
The six modern newcastlemax vessels of 208,000 deadweight tons equipped with exhaust gas cleaning systems, or scrubbers, will be purchased for a total price of $291 million. The newly-acquired vessels will be chartered back to their former owner, an unrelated third party, for approximately 36 months at an average daily time charter equivalent rate of approximately $21,000 net, as mentioned in an announcement in February 13.
Ulrik Andersen, Chief Executive Officer of Golden Ocean Management said that due to the strong balance sheet, the transaction will be made with moderate leverage and cash on hand without impacting the company´s dividend capacity.
"This acquisition cements our position as the largest owner of modern Capesize vessels. It also increases our fleet's fuel efficiency and reduces its emissions profile as we continue to make progress toward our 2030 emission-reduction target of 30%. We have acted on what we see as a short-term weakness in asset prices to acquire high-quality assets with strong return profiles that will comply with all environmental regulations beyond 2030. We have structured the acquisition to manage short-term risk through profitable time charter contracts while increasing our long-term exposure aligning with our optimistic outlook," highlights Mr. Ulrik Andersen.