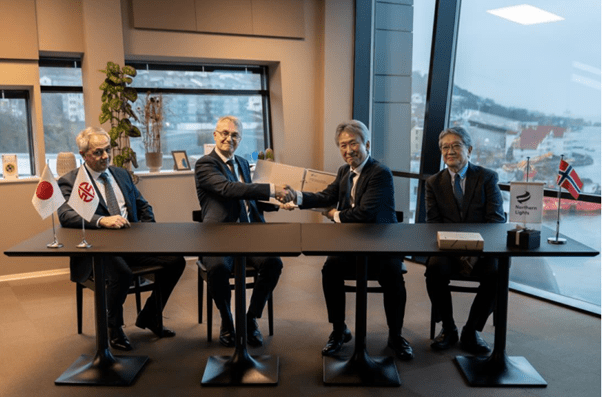 A signing ceremony was held on Friday in Stavanger, Norway, between Kawasaki Kisen Kaisha ("K" Line) and Northern Lights JV DA for bare boat charter and time charter contracts for two 7,500m3 liquefied CO2 ships.
The ships will be delivered in 2024 and will contribute to the world's first full-scale carbon capture and storage value chain project, as K Line claims.
K Line with their London-based subsidiary "K" Line LNG Shipping (UK) will undertake the management of two ships transporting liquefied CO2 from industrial emitters, including the Norcem Brevik and Hafslund Oslo Celsio carbon capture facilities in Norway, to the Northern Lights CO2 receiving terminal in Øygarden, Norway.
Both companies agreed to work together to develop a cross-border CO2 transport and storage network and to offer a safe, reliable, and flexible liquefied CO2 shipping solution using their respective expertise. Both companies recognized that CCS is an essential infrastructure for achieving the global climate goals.
Børre Jacobsen, the Managing Director of Northern Lights said that ""K" Line has a long history of creating innovative shipping solutions. Together with their ability to overcome changing business conditions and working to ensure safe and reliable operations, this will be key for making this groundbreaking and pathfinding collaboration a success."
From his side Satoshi Kanamori, the Executive Officer of "K" Line said that "Northern Lights plays the key role of "Longship project" for the decarbonization of European industry. "K" Line Group is determined to work together to conduct safe and highly reliable shipping operations."