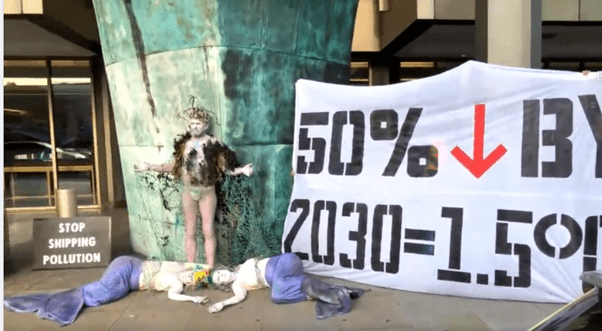 Ocean Rebellion, a group that fights to protect the high seas, held a protest demanding emissions cuts.
As delegates celebrated the first day of the Marine Environment Protection Committee (MEPC80), on Monday, July 3rd, at the UN International Maritime Organisation (IMO) HQ, they were theatrically interrupted by the so-called "Poseidon, God of the Ocean" who came into the room accompanied by two desperate, dripping, merpeople who looked near dead – poisoned by ocean pollution, as Ocean Rebellion explains in a statement.
Ocean Rebellion wanted to make its position known to the IMO Secretary General Kitack Lim, despite the letter which was sent and ignored, as it claims.
The IMO is currently revising its existing climate strategy, and aims to halve shipping emissions by 2050.
Ocean Rebellion calls on IMO Member States to commit to halve ship emissions by 2030, to force ships to slow down to rapidly cut emissions, to prioritise wind power for ships, new and old, to speed up the roll-out of new climate-friendly fuels, to steeply price the carbon in shipping fuels, to scrap flags of convenience, as it is said by the group, and offer a single standard of employment rights to all seafarers, and also to make sure no-one is left behind by helping countries in need.
Ocean Rebellion said the IMO is failing in its duty to meet the Paris Climate Agreement.
"It must act now to halve shipping emissions before 2030, advise against any fossil fuel subsidies and start severely taxing shipping fuel", Ocean Rebellion notes.
Ocean Rebellion was launched in August 2020, and its aim is to protect, enhance and repair the high seas.
Amongst many other measures needed to save the oceans, Ocean Rebellion calls for immediate reductions of CO2 emissions of well over 10% a year starting now to save marine biodiversity from extinction, with policies rigorous enough to drive this, a global ban on bottom trawling and a reduction in fishing by 80%, achieved by ending industrial fishing and empowering coastal communities by promoting low-impact traditional fishing and Ocean care, an end to deep sea mining and a commitment to keep the sea bed in pristine condition.
They also call for the protection of the high seas by a binding treaty which places the restoration and replenishment of the Ocean as its only measure of success, proper filtration of waste water to remove toxis and micro-plastics, and the banning of sun-screens and cosmetics containing oxybenzone and other coral-killing substances.
Zinc Oxide sun-screen is a valid alternative, points out Ocean Rebelion.