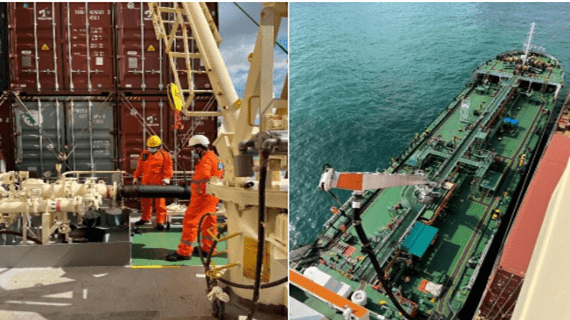 Singapore-based Ocean Network Express (ONE), a new entity which emerged from three major Japanese liner companies 'K'​ Line, MOL and NYK, has completed a biofuel trial onboard the ship MOL Endowment.
The vessel was refuelled with 992 metric tons of marine biofuel product at the Port of Singapore, on December 21st last year.
In accordance with the company, the trial showed that "marine biofuel products can be considered 'Drop-in fuels' for reducing carbon emissions from ships."
The vessel, deployed on ONE's Japan Straits Malaysia service, fully utilized the biofuel in 20 days. Biofuel consumption started on January 7th, 2023, after the vessel left the port of Kobe in Japan, passing Keelung, Hong Kong and then sailed to Southeast Asia. The biofuel was fully consumed on January 26th, 2023, on its return voyage to Japan from Port Klang.
The biofuel used was B24, a blend of Used Cooking Oil Methyl Ester, and Very Low Sulphur Fuel Oil.
The biofuel blend was supplied by Chevron, and it is considered a sustainable fuel that is similar to petroleum-derived marine fuels, in terms of its operational application.
According to ONE, the trial required no modifications to the marine engines or fuel infrastructure.
The use and testing of the biofuel were performed in partnership with the shipping major Mitsui O.S.K. Lines, and the biofuel was supplied in accordance with the standard on specifications of marine biofuel, established by the Maritime and Port Authority of Singapore.
Jeremy Nixon, the CEO of Ocean Network Express said "It is encouraging to see the various partners at different points of the supply chain come together in this biofuel trial for the common goal of a better, more sustainable future. At ONE, digitization and decarbonization are some of our top business priorities. This 4th biofuel trial marks a step forward in our goal to achieve net-zero by 2050."
Furthermore, the exchange of documents between ONE and Chevron were made digitally through the Singapore Trade Data Exchange, which is a digital utility for the sharing of data between supply chain ecosystem partners, through a common data highway, for the secure exchange of information.