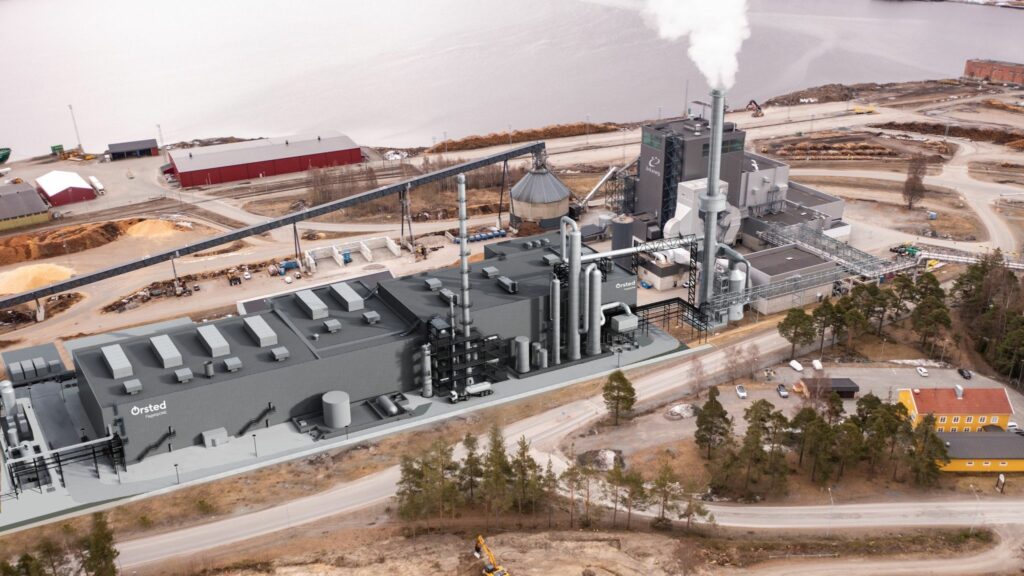 Photo credit: Ørsted
Denmark-based Ørsted has launched the construction of FlagshipONE which is considered as Europe's largest e-methanol project. Expected to become operational in 2025, the project will produce around 50,000 tonnes of e-methanol per year.
According to Ørsted, the groundbreaking of FlagshipONE not only marks the construction start of the project, but also the first steps in a new green era of shipping, where large-scale methanol production facilities will supply a constantly growing fleet of methanol-powered vessels.
Originally developed by the Swedish e-fuels company Liquid Wind, FlagshipONE will be located next to Övik Energi's combined heat and power plant Hörneborgsverket in Örnsköldsvik, Sweden.
As explained, the e-methanol from FlagshipONE will be produced using renewable electricity and biogenic carbon dioxide captured from Hörneborgsverket. In addition, FlagshipONE will use steam, process water, and cooling water from Hörneborgsverket, and excess heat from the e-methanol production process will be delivered back to Övik Energi and integrated into their district heating supply.
The ceremony was held on 24 May in Örnsköldsvik, Sweden, in the presence of political representatives and representatives from partner companies, including Siemens Energy, Carbon Clean, and Topsoe, who will deliver the electrolysers and control system, the carbon capture equipment, and the methanol synthesis equipment, respectively.
Currently, over 110 e-methanol vessels have been ordered or are in operation, up from 80 vessels at the end of 2022. At the same time, new regulation such as Fuel EU Maritime is also increasing the demand for new, green maritime fuels.
In addition to these major equipment suppliers, local companies are already involved in the project, and the operation of the plant will also create direct and indirect jobs in Örnskoldsvik, as claimed by Ørsted.
The event in Örnsköldsvik focused on the need to decarbonise global maritime transport and on the large potential for Sweden to become a key market for the production of e-methanol.
Ørsted added that FlagshipONE is the first e-methanol project in its green fuel pipeline. The company is also developing the 300,000 tonnes/year 'Project Star' in the US Gulf Coast area and the 'Green Fuels for Denmark' project in Copenhagen, which is expected to produce significant volumes of e-methanol to enable the decarbonisation of shipping.