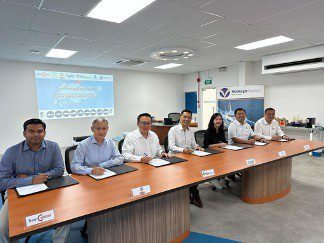 Asia's first pure-play offshore wind vessel owner Cyan Renewables announced the launch of a green energy consortium, together with six other companies, to jointly design and develop electric harbour craft operations in Singapore.
Singapore targets for new harbour crafts to be fully decarbonised from 2030, but it currently lacks commercially viable solutions to enable such a transition, Cyan said.
Led by Cyan Renewables, the consortium comprises class society Bureau Veritas Marine, PSA Marine, Strategic Marine and technology providers SeaCabbie, Sea Forrest and Victory.
The consortium is also backed by one of Asia's largest liner shipping companies, Pacific International Lines (PIL).
The consortium, with members across the entire renewable energy value chain, said it will focus on quality shipbuilding, flexible financing and customer access, to deliver a solution that is "expected to significantly lower commercial barriers and reduce carbon emissions for electric harbour craft operations."
Lee Keng Lin, founding chief executive of Cyan Renewables said that "Cyan Renewables enables operators to access green maritime solutions with minimal capital outlay, significantly reducing barriers against innovation. We are confident in the consortium's ability to ease the green energy transition for Singapore's maritime sector."
Goh Chung Hun, head of fleet division in Pacific International Lines noted that "PIL, as a Singapore home-grown shipping line and with focus on sustainability, looks forward to engaging the consortium and contributing towards Singapore's national climate target of achieving net zero emissions by 2050."
Francis Tang, commercial director of Bureau Veritas Marine commented "BV has been actively supporting the Singapore maritime ecosystem for many years now, and we will continue to bring along our best practices, experience and technical expertise to this excellent consortium."