Collision of two cargo ships has occurred on Friday, 9 nautical miles north – northwest off the Greek island of Chios, in the Aegean Sea.
The Vanuatu-flagged ship ANT, with 13 crew on board, collided with the Singapore-flagged vessel Potentia, which has 19 crew on board. The ANT had sailed from Alexandria, Egypt for Ukraine, while the Potentia had departed from the Turkish port of Izmir bound for France.
Both ships are unloaded and there is currently no risk of sinking, while Hellenic Coast Guard vessels have already arrived in the area.
A total of seven Hellenic Coast Guard patrol boats, one Hellenic Coast Guard offshore vessel, one Hellenic Navy ship, one Canadair CL-215 aircraft of the Hellenic Air Force, three Super Puma helicopters of the Hellenic Air Force, as well as nearby ships assisted in the operation. Also, a Turkish Coast Guard vessel has arrived in the above sea area, the Hellenic Coast Guard said earlier in a statement.
The General Directorate of Maritime Affairs of Turkey issued a statement in the social media about the accident mentioning that the Vanuatu-flagged Turkish-owned ship ANT, which has 13 Turkish crew, and the Singapore-flagged ship Potentia collided, but did not reveal any further details.
Until now no request for abandonment has been made by the crews of the two ships.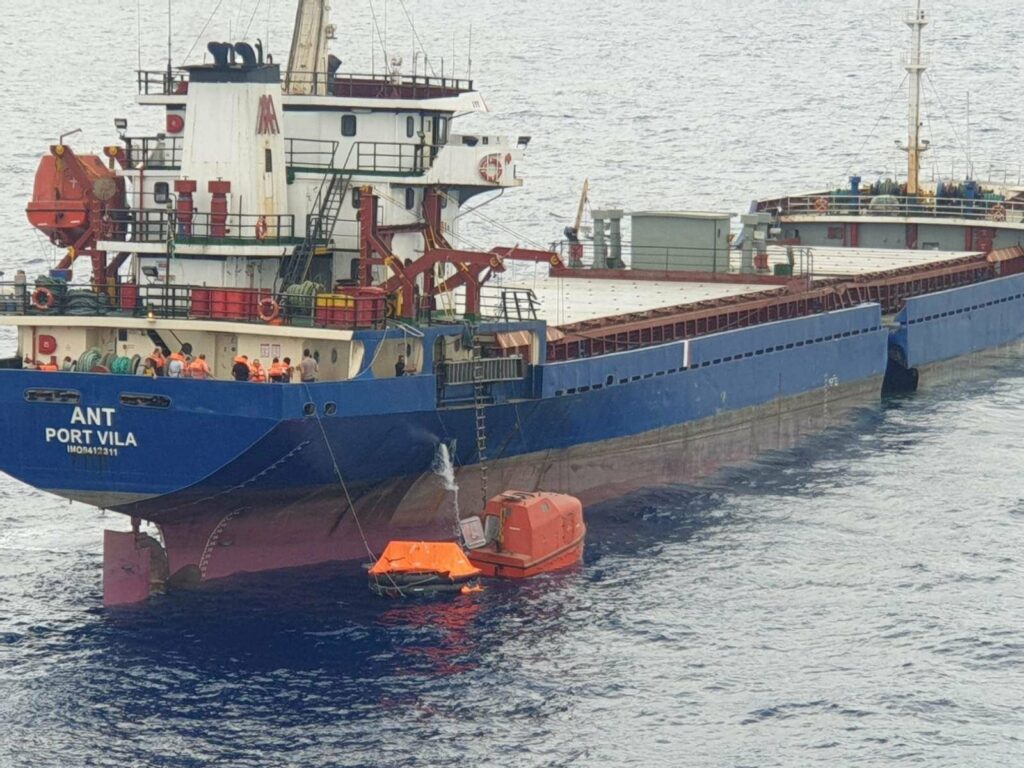 Photo credit: Hellenic Coast Guard
The Hellenic Coast Guard confirmed the accident mentioning that the two ships collided "in international waters, within the Greek search and rescue area."
On board the Vanuatu-flagged ship, a Hellenic Coast Guard rescuer disembarked from the second Super Puma helicopter of the Hellenic Air Force that was at the scene, in order to ascertain the condition of the crew and the need for any assistance.
"There were no injuries from the incident and no marine pollution was observed," the Coast Guard noted.