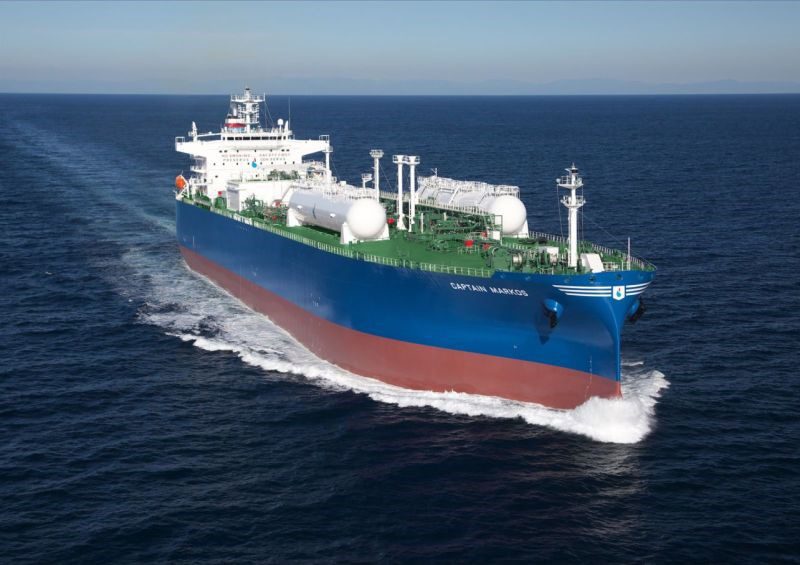 Photo credit: Dorian LPG
Dorian LPG, an owner and operator of modern and very large gas carriers (VLGCs), led-by the Greek John Hadjipateras who has been actively involved in the management of shipping companies since 1972, took delivery of the vessel Captain Markos from Kawasaki Heavy Industries today. She is Dorian's first dual-fuel VLGC and will join the Helios LPG Pool.
The shipyard has delivered the 84,000 m3 capacity liquefied petroleum gas (LPG) carrier, and it is considered the 70th LPG carrier built by the company. Its overall length is 229.90 meters, its deadweight is 55,206, and it is classed in American Bureau of Shipping (ABS) with flag of Bahamas.
Captain Markos is a dual-fuel LPG carrier using LPG and low-sulfur fuel oil, and their seventh 84,000 m3 LPG carrier adopting a dual-fuel main engine.
This very large LPG carrier is powered by LPG, which reduces greenhouse gas emissions and is expected to significantly reduce environmental impact, in accordance with the shipyard.
John Hadjipateras, who controls Dorian LPG as the Chairman, Chief Executive Officer and President of the company, has announced earlier this month the delivery of the 2023-built dual-fuel VLGC "HLS Diamond" under long-term time charter. She will trade in the Helios LPG Pool which the company operates jointly with MOL subsidiary, Phoenix Tankers.
"HLS Diamond" vessel is able to transit the old Panama Canal locks, reducing delays and costs compared to the new Panama Canal, Dorian LPG writes in its press release.
The Japanese shipyard Kawasaki plans to develop and build more LPG-fueled LPG carriers, LPG/NH3 carrier, and other commercial vessels that meet environmental standards, as the shipbuilder claims, as well as to develop and offer other eco-friendly marine technologies. These products include vessels for transporting liquefied hydrogen, considered to be the next-generation energy source.