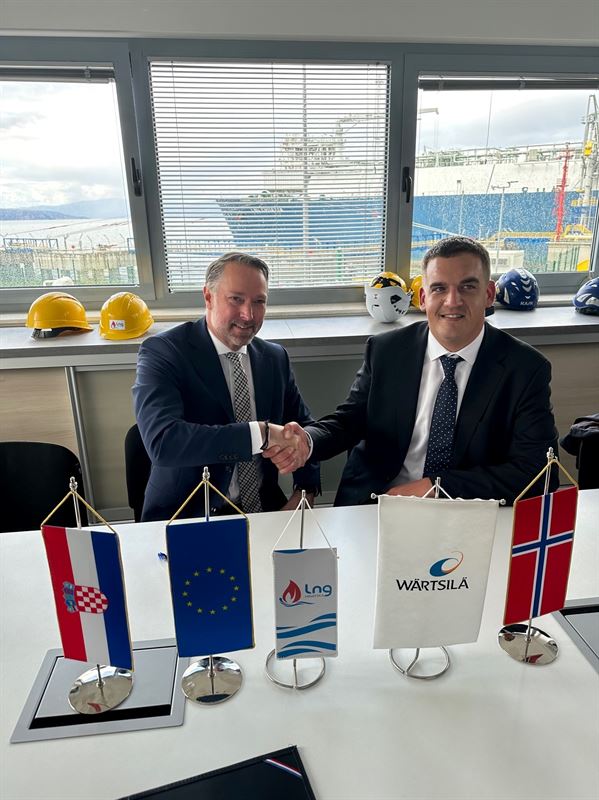 Photo credit: Wärtsilä
The liquefied natural gas (LNG) terminal on the island of Krk in Croatia and its connecting pipeline which has been inaugurated by the prime Minister of Croatia in the year 2021, is of strategic importance for the security and diversification of natural gas supply in Central and South-Eastern Europe.
The construction of the LNG terminal and gas pipeline, connecting it to the Croatian gas transmission system, got a total of €124 million EU funding through the Connecting Europe Facility.
Now after almost two and half years the technology group Wärtsilä will extend the regasification capacity for the Croatian LNG terminal.
Specifically, the group will extend the capacity of the regasification system installed onboard the ship "LNG Croatia" with a new regasification module. The expanded capacity helps position Croatia as an energy hub for the West Balkans region.
The 280-metre long Floating Storage and Regasification Unit (FSRU) vessel is owned by Zagreb-based LNG Hrvatska, and acts as the company's LNG terminal on Krk island in Croatia.
According to Finland-based Wärtsilä, the order for the new system was booked by the technology group in the second quarter of 2023.
The new module will supplement the vessel´s existing onboard Wärtsilä regasification system and increase the terminal's capacity with 212 mmscfd (million standard cubic feet per day) or 250,000 m3 per hour.
"The expansion project for the Krk terminal is very significant in strengthening Croatia's energy security and gas supply. This latest order reflects the fact that our systems represent an industry benchmark in terms of energy efficiency, robustness, and operational flexibility," commented Kjell Ove Ulstein, Sales and Marketing Director, Wärtsilä Gas Solutions.
In addition to the new regasification train, Wärtsilä will also supply the engineering for the capacity conversion. The related plant will be installed during summer 2025.
The project represents a significant investment in Croatia's energy infrastructure, and is expected to have positive economic and environmental impacts.
As the West Balkan country continues to prioritize sustainable energy solutions and reduce its reliance on fossil fuels, the expansion of the LNG terminal represents a crucial step forward.