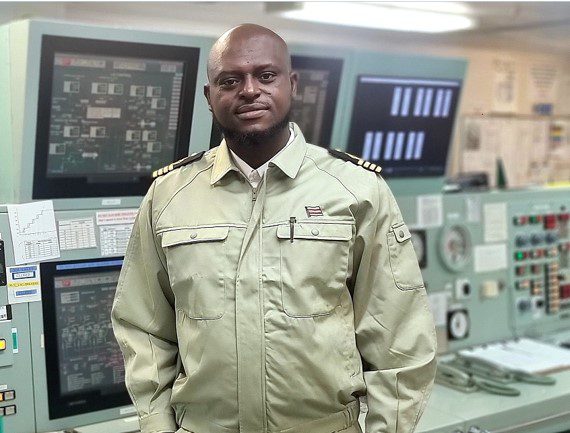 Chief Engineer Aikins Kofi Obeng, photo credit: NYK
Ship management company NYK Shipmanagement Pte. Ltd., a wholly owned Singapore subsidiary of NYK Group announce that they on 4th June has appointed seafarer Aikins Kofi Obeng as its first Nigerian chief engineer aboard a liquefied natural gas (LNG) carrier.
The vessel, LNG BORNO, where chief engineer Aikins Kofi Obeng works, is on a long-term time-charter to Nigeria LNG Ltd. (NLNG).
It is mentioned by the company, that the development and advancement of Nigerian seafarers is a shared commitment by both NLNG and NYK in line with NLNG's Nigerianisation process, which also led to Tanko Olanrewaju Usman becoming the first Nigerian captain aboard an NYK LNG carrier in February.
"I am incredibly grateful to God for the blessings in my life, and I want to express my heartfelt appreciation to NYK group, my exceptional employer. I want to use this opportunity to inspire my Nigerian colleagues at sea, that with the Nigerian spirit of resilience and the determination to excel despite the storm, nothing is impossible, " Chief Engineer Aikins Kofi Obeng commented.