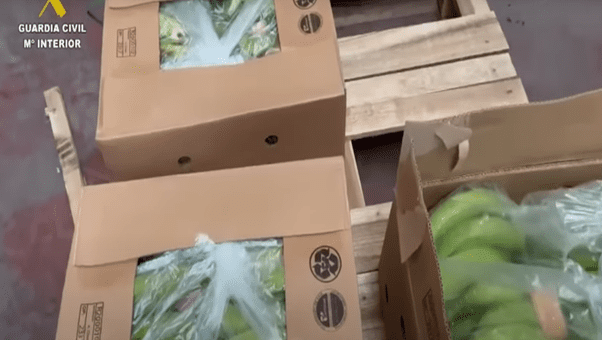 More than six tonnes of cocaine have been found hidden between bananas in Spain and Columbia, worth of approximately €223 million, according to Europol.
Europol supported the Spanish, Colombian and Latvian police investigation into a criminal network involved in shipping cocaine from South America to Europe.
Thirteen people were arrested and eight locations were searched in Cádiz and Malaga during the operation, which led to the seizure of 6.5 tonnes of cocaine, vehicles, luxury watches, a large number of electronic devices and €1.5 million in cash.
The cover shipment was the importation of bananas from Ecuador and Colombia. Once the shipments were extracted from the port of Algeciras and were on their way to their legal destination, they were diverted to a warehouse where the pallets with cocaine were replaced with identical ones containing bananas.
Over the past seven months, Spanish authorities had seized a number of large cocaine shipments linked to this criminal organisation, in accordance with Europol.
In December 2022, the Colombian police seized about 3 tonnes of cocaine concealed in banana shipments transiting from the port of Turbo via the port of Cartagena and destined for the Spanish port of Algeciras.
In another incident, Colombian authorities intercepted a second shipment of 1.25 tonnes of cocaine at the port of Cartagena.
The legal destination of this shipment was the Spanish port of Vigo. However, the cargo had to first pass by the port of Algeciras, where the drugs should have been extracted by the criminal network.
In May 2023, to avoid possible interceptions in Colombia, the criminal network arranged a new shipment directly from Ecuador to Algeciras.
This time, the drugs reached Spain and an associate of the network extracted the pallets from the port area.
Video credit: Guardia Civil