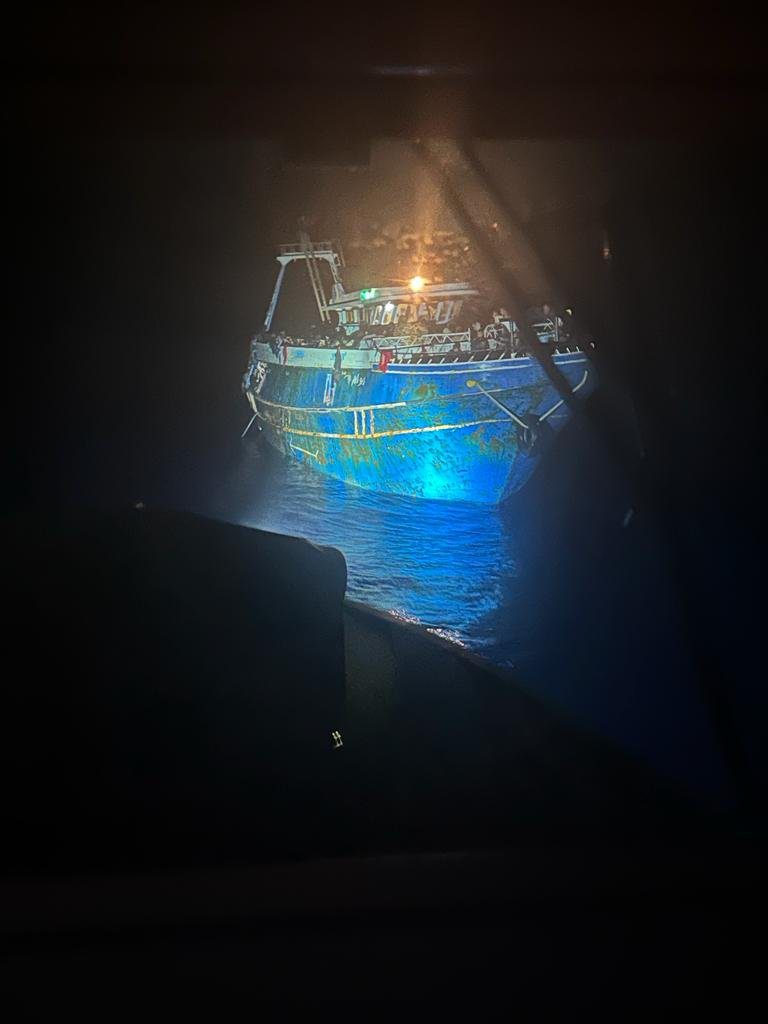 Thousands of migrants have crossed the Central Mediterranean in the first months of the year, with European authorities warning that thousands more are waiting to make the journey.
The number of detections of irregular border crossings at EU's external borders in the first months of the year reached 102 000, 12% more than a year ago, according to preliminary calculations, as Frontex reveals.
At the same period, the number of detections more than doubled (160%) compared to the same period in 2022. This figure is the highest number recorded since 2017.
Thousands of migrants have passed the Central Mediterranean as it remains the main migratory route into the EU.
So far this year, the Central Mediterranean remains the most active route into the EU, with more than 50 300 detections in January-May reported by national authorities. This route accounted for nearly half of the irregular entries to the EU in 2023.
The arrivals on the Central Mediterranean route drove the raise of 12% of all entries to the EU, as arrivals on all the other migratory routes saw declines ranging from 6% on the Western Mediterranean up to 47% on the Western African route.
Frontex says the decrease was mainly related to long periods of bad weather conditions, which made the already dangerous journeys aboard unseaworthy boats even more risky, adding that migratory pressure in the region remains high and it is expected an increase in the activity of smugglers in the region in the coming months.
During January-May period, the Western Balkan route, which is the second most active route with over 30 700 detections, saw a decline of 25% in comparison to the same period last year.
"The declines in this migration route observed since the beginning of the year are a tangible effect of countries in the region aligning their visa policies with EU regulations."
Recently many people have been killed in the sinking of a fishing vessel about 47 miles south-west of Pylos, in southern Greece, the latest tragedy to expose the refugee crisis confronting the European Union as tens of thousands seek sanctuary from war, persecution and poverty.
The chairman of Pakistan's Senate, Muhammad Sadiq Sanjrani, disclosed the tragic loss of over 300 Pakistani in the recent boat accident off the coast of Greece, in a statement in twitter, sending condolences to grieving families of the dead.
"Chairman Senate of Pakistan, Muhammad Sadiq Sanjrani, deeply mourns the tragic loss of over 300 Pakistani lives in the recent boat accident off the coast of Greece. Our thoughts and prayers are with you, and we pray that the departed souls find eternal peace," Sanjrani said. "This devastating incident underscores the urgent need to address and condemn the abhorrent act of illegal human trafficking."
In accordance with the latest report from the Hellenic Coast Guard so far 104 foreigners have been rescued and 82 bodies have been recovered.
Chairman Senate of Pakistan, Muhammad Sadiq Sanjrani, deeply mourns the tragic loss of over 300 Pakistani lives in the recent boat accident off the coast of Greece. "With heavy hearts, we extend our heartfelt condolences to the grieving families during this time of immense sorrow…

— Office of the Chairman Senate, Pakistan (@OfficeSenate) June 18, 2023