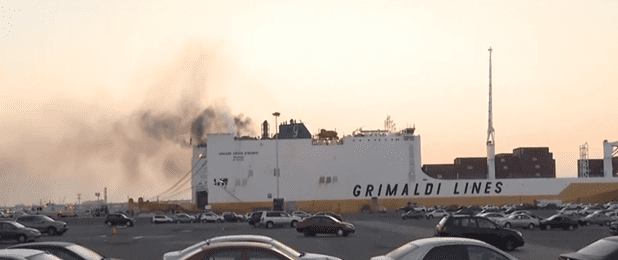 Two firefighters died as they were trying to put out a fire that broke out last night aboard a cargo ship in Port Newark, New York.
According to US officials, the fire broke out on the 10th floor of the ship and then spread to the two floors above. Crews were still working to get the fire under control and many vehicles inside the ship were burned.
The local Fire Department has not said anything about how exactly the fire on the cargo ship started.
CBS reported that the ship traveled from Baltimore on a two-day journey. This ship can carry more than 47,000 tons and was carrying multiple cars at the time of the fire.
The journalist from the CBS News media was reporting live from the scene showing images from the ship Grande Costa D'Avorio. As the journalist said during the broadcast it is yet not known how the fire started.
In accordance with the latest information from Marine Traffic the vessel is currently at port New York, after a voyage of 2 days, 8 hours originating from port Baltimore, in US.
Grande Costa D'Avorio is a Ro-Ro/Container Carrier that was built in 2011 (12 years ago) and is sailing under the flag of Italy. Her carrying capacity is 47232 gt and her current draught is reported to be 7.6 meters.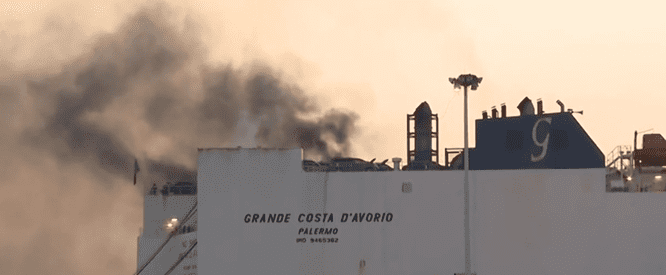 "Unfortunately, we have a loss. This is a tragedy, something that I, as a chief, never wanted to express," Fire Chief, Rufus Jackson, said about the death of the two firefighters. Both victims were members of the Newark Fire Department.
The Port Newark, officially called the Port Newark Container Terminal, is about 272 acres – the largest container port on the US East Coast.
"It's very, very, very traumatic for all of us," Mayor Ras Baraka says of the Port Newark fire that killed two firefighters overnight. https://t.co/oeZQsn1IG6

— CBS New York (@CBSNewYork) July 6, 2023