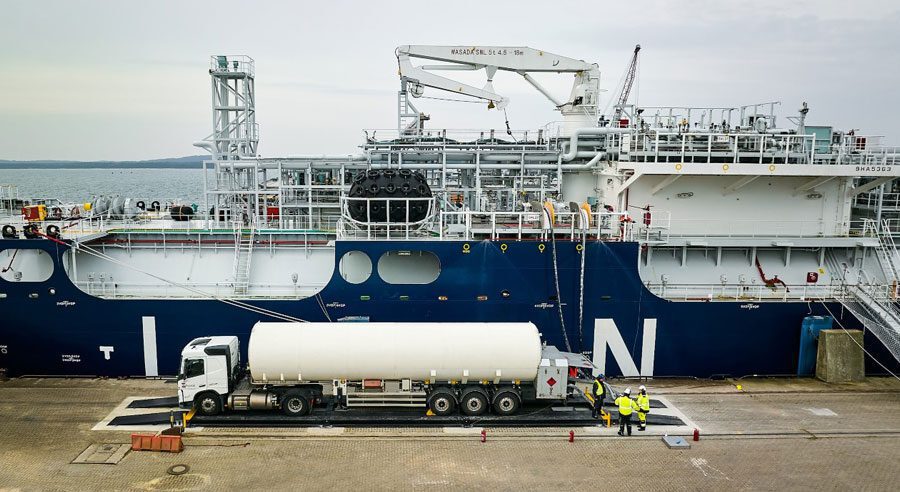 UK´s Avenir LNG subsidiary has successfully conducted Germany's first direct LNG unloading operation from a transport vessel into trucks. Avenir LNG, an integrated small-scale LNG supplier, said the operation involving the small-scale LNG transport vessel "Avenir Ascension" took place in the Port of Mukran on 22nd of February.
The operation was done in cooperation with global energy trader Vitol and its subsidiary ViGo Bioenergy, who provided the trucks and delivered the LNG to their European truck fuelling station network. This new ship-to-truck initiative is focussed on supplying the German market for trucked LNG, which is one of the largest markets in Europe, and is so far not served by any of the large-scale FSRU based projects, as the company´s top management explains.
The vessel was at berth for 3 days, with LNG unloading operations completed during this time.
The operation in Mukran was prepared as a pilot project to demonstrate the viability of setting up an energy supply chain for decentralized regions without the requirement for large-scale LNG unloading, and terminal infrastructure.
Peter Mackey, CEO of Avenir LNG Limited, commenting on the successful operation said "Germany has moved quickly to build out large-scale LNG import infrastructure to support gas security of supply into the grid."
It is highlighted that the necessary preparations for the test operation were completed within weeks, rather than the extended development period required for larger, permanent infrastructure such as onshore terminals, or FSRUs.
Christian Schneider, Managing Director of ViGo Bioenergy, commented, "The ViGo Bioenergy truck fuelling station network is growing substantially and we are expanding into new regions. Therefore, we are always looking for new and innovative ways to secure the LNG & bio-LNG needs of our customers from the transport industry."