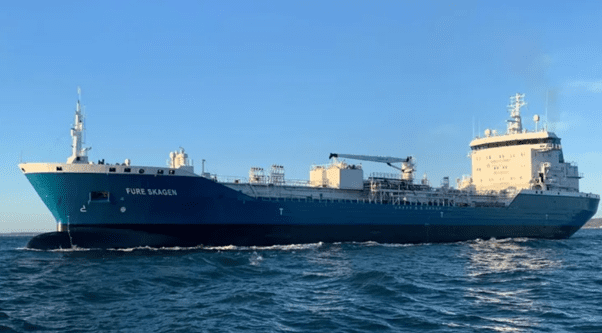 The joint venture FureBear, between the Swedish family-owned tanker shipping company Furetank and Algoma Central Corporation, together with Larsson Shipping, has taken over the ownership of Algoma's 2008-built product tanker Algonorth. The 16,958 deadweight double hull product oil tanker has arrived from Canada to trade in Northern Europe under the new name Fure Skagen. The vessel has been acquired by Algoma from Furetank's Gothia Tanker Alliance partner Rederi AB Älvtank in 2018.
Fure Skagen, it's a double hull product oil tanker, having an ice class and super strip system which makes her well designed for the intense Northern European trade, as the company explains, will be flying the Faroe Island flag and is owned by FureBear and Larsson Shipping. She will be commercially managed by Furetank Chartering in the Gothia Tanker Alliance.
Lars Höglund, CEO of Furetank, said the addition of Fure Skagen will improve the services and give the partners "a well-timed overlap, while waiting for the new Vinga series vessels to arrive, from the shipyard in China in the coming years".
"This is another example of how great partnerships lead to further collaborations that optimize organizational strength and enable us to deploy assets to the best and highest use for our customers. We look forward to having Fure Skagen joined by eight newbuilds, to be owned by FureBear, with the first vessel expected to be delivered later this year", says Gregg Ruhl, President and CEO of Algoma Central Corporation.
Furetank, based on Donsö in the Gothenburg archipelago, operates 9 owned vessels, and is a founding member of the Gothia Tanker Alliance which is a market platform for small and intermediate product tankers, operating 40 vessels in European waters.