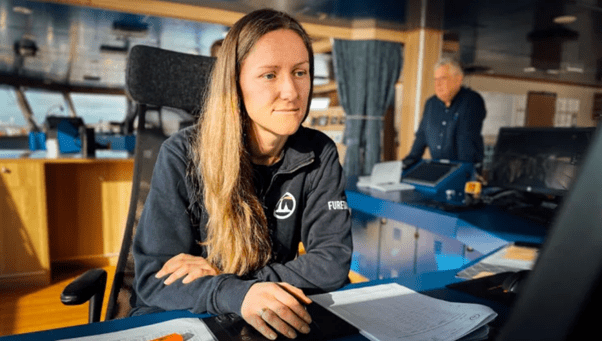 Therese Boman has become the first female captain at the Fure Vinga ship for the Swedish shipowner Furetank, which is active in tanker shipping since the early 1950´s. Furetanks gets its first female captain and becomes an example for other women to follow a career at sea.
Boman described by Furetank as "competent and ambitious employee," started off as a chief officer when she came to Furetank two years ago.
All the way from graduating school and joining her first ship as a junior officer, she has strived to grow the experience, knowledge and time at sea needed to reach the highest position of a ship.
"I always knew I wanted to become a captain," she said. Since Boman started at Furetank the management has trusted her to take on more responsibility.
"I enjoy being involved in all happenings onboard, talking to everyone in the crew and finding solutions together for whatever dilemmas might appear," she says.
But to be a captain needs constant learning since no situation is the same as the previous one, she claims, adding that also it's a great fun to maneuver the vessel!
Her first mission as a captain was leaving the quay in Amsterdam, passing through the lock and heading towards Grangemouth, Scotland.
"It was a great feeling. Everyone onboard is so supporting and happy for me, as well as the shore personnel. I have received many emails saying 'Congratulations!' I find that the management has a very positive and inspiring attitude towards employees who want to develop. I truly appreciate that," she says.
She doesn't attach much importance to gender
About becoming the first female captain in the company, she doesn't attach much importance to gender but still sees a positive trend in the business.
"Shipping has traditionally been a strongly male profession, so it is a great thing that more and more women are making their way here. And the more females there are in the industry, the more want to join. This is positive for everyone onboard: a mix is always the best," Therese says.
The next step
So, what is her next goal, now that she passed a significant career milestone that took her years to achieve?
"I will continue to gain as much experience as possible. Furetank is building nine new vessels of the VINGA design in China and if I get enough experience, I might be able to bring home one of the ships as a captain. That could be my next goal. But for now I just want to keep going," she adds.