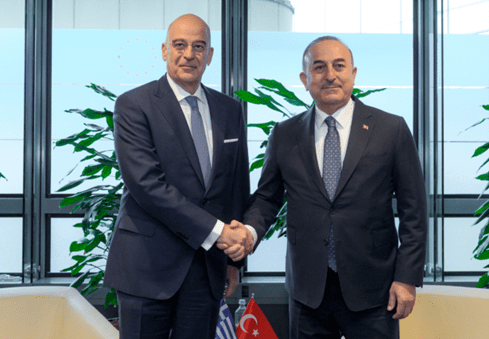 Greek Minister of Foreign Affairs Nikos Dendias has told his Turkish counterpart Mevlut Cavusoglu that intends to support Turkey's candidate in the race for the leadership of the International Maritime Organisation (IMO).
Nikos Dendias met Turkish foreign minister Mevlut Cavusoglu in Brussels on Monday and said that had a very constructive meeting.
In accordance with Mr. Dendias statement Türkiye will support and vote for Greece´s candidacy for the position of non-permanent member of the UN Security Council and Greece will support the Turkish candidacy for the General Secretariat of the International Maritime Organization (IMO). The statement has been made in the national Greek television by Nikos Dendias after the meeting with his counterpart.
"I had a constructive meeting with the Turkish Foreign Minister Mevlut Cavusoglu in Brussels," the Greek Minister said today in a Greek tv station.
After the meeting, both the ministers have walked and entered together into the hall of the International Donors Conference for Türkiye and Syria, in Brussels, which is taking place today and co-organized by the European Commission and the Swedish EU Council Presidency, in support of the people in Türkiye and Syria affected by the devastating earthquakes.
The Conference aims to gather contributions from EU Member States and international donors in support of the people of Türkiye and Syria affected by the earthquakes.