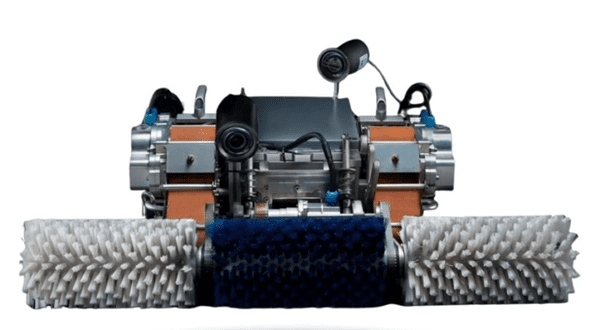 Oriani Hellas and Scrufy team up to bring a solution to the issue of biofouling in the shipping industry. Oriani Hellas has partnered with Scrufy, a Greek tech company that provides custom-built automation solutions to multiple industries, and software solutions for the public and private sector. Scrufy has created the first Greek autonomous hull-grooming robot, BlueBOT.
BlueBOT is designed to aid the decarbonization of the shipping industry, through preventing the accumulation of biofouling on hull surface. The autonomous robot attaches to the hull of a vessel magnetically, and grooms the surface before it becomes a full-blown operational setback for the ship.
In addition to its grooming capabilities, BlueBOT also collects data and generates reports on the state of the hull and the effectiveness of the grooming process. As Oriani Hellas states, this allows shipping companies to stay on top of any potential biofouling issues, and make informed decisions to maintain the performance and efficiency of their vessels.
Oriani Hellas business development director, John Vandoros, said "Oriani prides itself on identifying the most innovative digital solutions to represent within the maritime industry, ones that truly deliver value to shipping companies on their voyage of digital transformation. BlueBOT and the state-of-the-art technology that it contains represents not only the huge potential within robotics, but how that potential can be harnessed and delivered in the real-world to achieve actual change."
"Our partnership with Oriani marks the beginning of a new commercial chapter for Scrufy and our revolutionary product, BlueBOT. Given the significant opportunity for OPEX reduction provided by our solution, we believe that BlueBOT will soon be the preferred choice of the shipping industry for biofouling management and reporting", commented Mr. Nick Arapkoules, Managing Director of Scrufy PC.
Source: Oriani Hellas