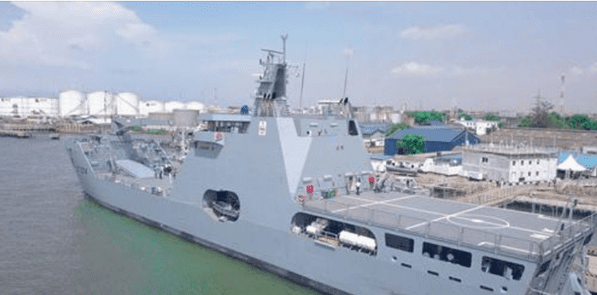 Photo credit: Nigerian Navy
The Nigerian Navy issued a statement in the social media confirming that the release of the motor tanker Heroic Idun is subject to the fulfilment of all aforementioned conditions of the plea bargain to the satisfaction of the Federal High Court.
The Navy also is denying media reports that the vessel has been released. The statement dated May 3 says, "the online reports and stories of the release of the vessel are thus false, mischievous, and misleading."
The Navy is emphasizing that there are pre-conditions on the release. Giving an update on the trial at the Federal High Court in Port Harcourt, Commodore Director of Information Ayo Vaughan said "the Navy shall continue to work in synergy with other maritime stakeholders, navies of the Gulf of Guinea states and strategic partners of Nigeria to ensure that Nigeria derives maximum benefit from its natural resources in the maritime area. No form of campaign of calumny or malicious online publications will distract the Navy from her unwavering commitment to the dutiful fulfilment of her constitutional mandate."
The Nigeria Navy reiterated in its statement that on Friday 19 August 2022 the Naval headquarters briefed the press on the arrest of the vessel by the Equatorial Guinean Navy, mentioning that the very large crude carrier had entered the Nigerian Maritime Environment on 7 August 2022 and headed for Akpo Field without any form of authorisation or clearance.
This accusation was denied by the ships owners who said that "the Heroic Idun was authorised to load at Akpo oil field in the Niger Delta," as mentioned by the International Transport Workers´ Federation statement on 23rd of November 2022.
The Nigerian Navy also claims that "the vessel's Captain having duly responded to Nigerian Navy Ship Gongola later failed to comply with the Navy ship's order to proceed to Bonny Anchorage to await her NNPCL papers, but rather altered her course southward and proceeded at top speed towards the Nigeria/Sao Tome Joint Development Zone. Heroic idun also reported her encounter with NNS Gongola to the International Maritime Bureau as a pirate attack, but this was later refuted by IMB because it was not."
"Heroic Idun was tracked by the Nigerian Navy's state of the art Maritime Domain Awareness system and the ship was eventually arrested by the Equatorial Guinean authorities based a formal request by the Nigerian Navy under the Yaoundé code of conduct. The vessel was afterwards transferred back to Nigeria on 12 November 2022," says the Navy.