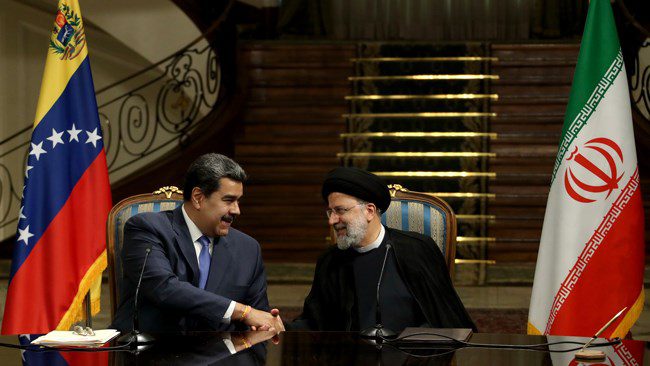 Photo credit: Iranian Chamber of Commerce/President Nicolas Maduro (L), and Irans President Ebrahim Raeisi (R)
Iran's Embassy in Venezuela has announced via Twitter on the 3rd of March that a direct shipping line has been established between Iran and Venezuela, with a ship set to depart every three months.
The aim is to support trade and merchants of both countries, with the first ship having already departed recently, and one ship to be sent to Venezuela every 3 months, the Embassy of Iran said recently.
Iran has launched the direct shipping line to Venezuela as was pronounced at the end of the previous year by the Iranian Chamber of Commerce.
The Iranian Chamber of Commerce, Industries, Mines and Agriculture reported in November 2022 that the Islamic Republic of Iran Shipping Line Group had launched the shipping line, but its continuation would depend on the response of businesspeople from both countries.
"Iran is said to dispatch Golsan ship to Venezuela later this week as the first shipment to the Latin American country. The way the businesspeople from both sides welcome this shipping line would determine whether it will continue to operate or no. Iran also plans to send a second ship to Venezuela within two months," the Iranian Chamber of Commerce commented in a statement in November.
Iran and Venezuela signed a 20-year "cooperation road map" during a state visit by President Nicolas Maduro to Tehran last year as the two oil-rich countries reeling under US sanctions pledged to boost bilateral ties.
In a joint conference following their meeting, the two hailed raising bilateral relations to the "strategic" level and agreed both countries can boost ties in trade in addition to the energy, science and technology, agriculture and tourism sectors.
"The Islamic Republic of Iran's foreign policy has always been to have relations with independent countries, and Venezuela showed that it has had incredible resistance against threats and sanctions by enemies and imperialism," Raeisi said, sitting next to Maduro.
Like Venezuela, he added, Iran has also "faced sanctions by the US and others for decades, but has chosen to regard them as an opportunity to move the country forward."