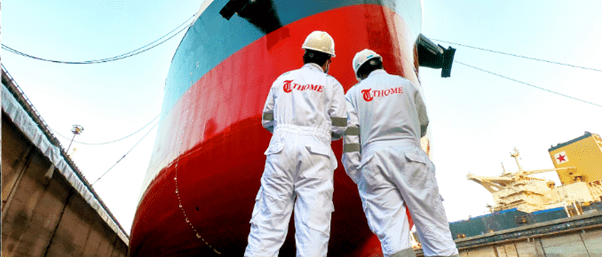 Photo credit: OSM Thome
The competition authorities have now approved the merger of OSM Maritime Group and Thome Group. The merged company, OSM Thome, will be a newly formed powerhouse in the international ship management market, represented in 22 countries and headquartered in Arendal, Norway.
OSM Thome´s fleet includes various segments such as tank, bulk, container, car ships and offshore vessels. The company handles ship management for nearly 450 ships and is responsible for crewing on about 550 additional ships.
Finn Amund Nordbye, CEO of OSM Thome, said: "This is a big day for OSM Thome. Our merger is now formally and finally approved. The merged company combines proud traditions with high ambitions. Our business is based on Norwegian maritime skills and with skilful employees in leading shipping locations across the world, we will strengthen our position as an innovative and world-leading supplier of ship management services."
He added: "We have built a company for the future, with safe, efficient and sustainable management of ships as our DNA. That will give added value for our customers and for our colleagues."
In a statement the company said that the integration process has been thoroughly planned and now, as the merger finally is approved, the work of joining the two organisations can begin.
The two companies share common values, view of the future, Norwegian ownership, and business philosophy. The integration process will be done in a dialogue with employees at the various offices. "It's all about people" has been OSM's mark for many years, and remains a core credo for the merged company, the top management states.
It has recently been decided who will join CEO Finn Amund Norbye in the management group. A team of skilled, maritime experience will contribute to developing the business in a way that serves the customers, 2,000 employees onshore and our 29,000 seafarers.
"We are respectful of and appreciate the trust shown to us by our customers, which we will do our utmost to maintain through our around-the-clock operations on the seven seas. We know our customers' needs and our skilled and dedicated colleagues, both on land and at sea, are crucial for us to be able to provide the best solutions. We have the skills and the ability to continue growing. We will do so by offering competitive solutions and taking good care of our existing as well as new customers. We will remain leading within safe and efficient management as well as within important areas such as digitalisation, cyber security and green shipping," Norbye states.
The management group consists of:
Finn Amund Norbye – Chief Executive Officer
Olav Nortun – Chief Operating Officer – Ship Management business division
Stig Morten Helland – Deputy Chief Operating Officer – Ship Management business division
Tommy Olofsen – Chief Commercial Officer
Julia Anastasiou – Chief Crew Management Officer
Gautam Kashyap – Chief Marine Services Officer
Constantinos Tzagotzides – Chief Accounting Officer
Vassilis Malikides – Group Finance Director
Jamir Morgan Ramsamy – Chief Digital Officer
Kjell Ove Breivik – Chief Culture Officer
Linda Hentsch – Global Head of Shore HR
Mailyn Borillo – Managing Director, Philippines
Morten Amundsen – Chief Legal Officer