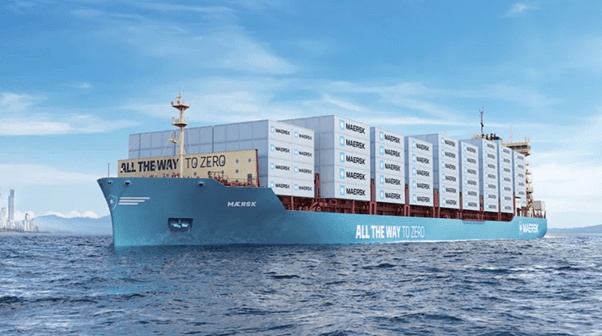 Image credit: A.P. Moller-Maersk
The 2,100 TEU feeder vessel is making a small piece of history in the shipping industry.
Danish shipping major A.P. Moller-Maersk will welcome the world's first green methanol container vessel in Copenhagen this September.
The company will host a week of festivities, including the name giving event and other activities in September 18 – 21, in Denmark's capital.
The dual-fuel engine vessel, a small piece of history in the shipping industry, will pause in Copenhagen right outside the Maersk headquarters on its way to the Baltic Sea, where she will be operating going forward.
Maersk will host events for employees, partners, investors, students and the area will be open for the public to take a closer look at the new vessel from the dock and learn more about the efforts to decarbonise the shipping industry.
The 172-meter-long vessel will leave the Hyundai Mipo Dockyard in South Korea this summer to embark on her maiden voyage to Copenhagen. The vessel will have a container capacity of 2,100 Teu and she sails at a designed speed of 17,4 knots.
The new feeder vessel will bring real experience for Maersk seafarers in operating the new type of fuel, as the company prepares to receive a fleet of new, large ocean-going dual-fuel engine powered ships from 2024.
Maersk aims to achieve net zero greenhouse gas emissions in 2040 across the entire business. To get there in time, the company aims to transport a minimum 25% of Ocean cargo using green fuels by 2030, compared to a 2020 baseline.
Receiving the landmark dual-fuel engine feeder vessel is a major step towards the long-term objective of gradually renewing the entire Maersk fleet to operate solely on green fuels and making a tangible impact in the industry's efforts to reduce greenhouse gas emissions, as the top management of the company claims.