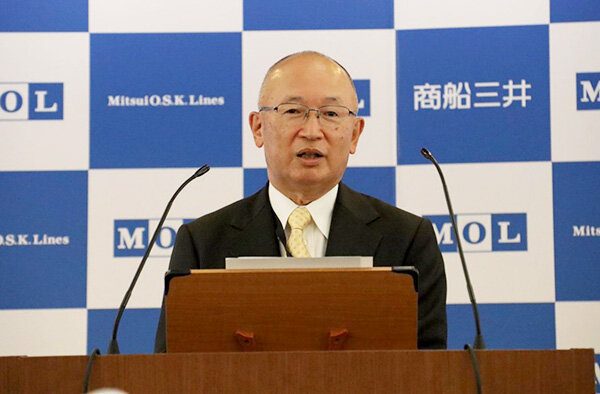 Mitsui O.S.K. Lines`s president and CEO Takeshi Hashimoto delivered his own message for the new year´s challenges, the organizational restructuring measures, and about the decision that some companies decided to withdraw from Russia-related business.
Japan's MOL president said they will continue their energy transport business, mainly LNG, from Russia, as long as they can.
"Some companies decided to withdraw from Russia-related business, but our group will continue to offer stable transport services, placing the highest priority on securing the safety of crewmembers, cargo, and vessels, as a company that develops a social infrastructure business centered on ocean shipping, transporting commodities essential to people's lives", according to the company´s CEO Takeshi Hashimoto.
As he pointed out "considering about strategic importance of energy supply under current circumstances, we will continue our energy transport business, mainly LNG, from Russia, as long as we can, and this is also in line with the direction of the Japanese government's policy. Of course, at the same time I pray that the situation will be brought to an end as soon as possible and that the people of Ukraine will return to safety and peace".
Japan´s shipping major also expects to achieve record high profits for the current fiscal year, benefiting from strong demand for ocean going shipping, and the accompanying surge in market rates.
As it is pointed out, freight rates have already begun to decline in some segments, especially container segment, as logistics disruption is coming to an end with the normalization of society. The shipping market is always volatile, and the company expects a reversal in the market conditions.
As President Hashimoto said about the current situation "this year, we may see the impact of inflationary measures in the U.S. and Europe", as he said, and "a significant but temporary downturn in the economy, however, we expect a return to a moderate expansionary trend in the not-too-distant future, as the Chinese economy normalizes and the pace of U.S. interest rate hikes slows". "We intend for this year to be one in which we effectively use the capital we have accumulated over the past two years to prepare for deteriorating financial result and to invest for our future growth", as he said.
As far as the company´s organizational restructuring measures he predicted that "this year's reorganization will be a major one".
Source: Mitsui O.S.K Line