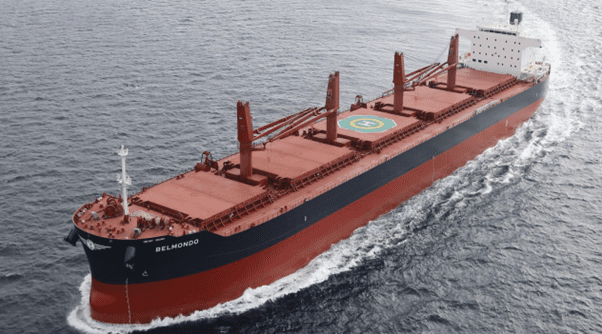 Norway´s Belships, a shipowner and operator of geared bulk carriers, has sealed deals for the acquisition of three new ultramax bulk carriers under construction in Japan. With this transaction, the owned fleet of the company will consist of 34 supra/ultramax bulk carriers with an average of about 4 years. As the CEO of Belships Lars Christian Skarsgård said the vessels are fully financed through time charter lease agreements, each for a period of seven up to 10 years, with purchase options at current market levels during the charter.
The 64,000 deadweight trio are scheduled for delivery in the fourth quarter of 2024, in the fourth quarter of 2025 and in the first quarter of 2026, respectively.
Belships shipowner with a history since 1918 has been listed on the Oslo Stock Exchange since 1937. The company is a fully integrated shipowner and operator of geared bulk carriers with a modern fleet of supramax and ultramax vessels.
As the shipowner notes "there is no obligation to purchase the vessels, and Belships is not required to make any down payment for this transaction." Cash breakeven for the vessels upon delivery will be about USD 14,000 per day, as the shipowner says furthermore in a statement.
For the conclusion of the deal certain steps need to be taken by the parties involved.
The Oslo-listed shipowner said "Belships will be taking over new vessels whilst the orderbook and supply side approaches the lowest levels seen in 30 years."
"We are able to increase our fleet without investing any cash, this will therefore not affect our dividend capacity in the near future. We also believe the best way for us to approach the green shift is to acquire the most efficient vessels available and pair it with a financing structure which gives us a bridge to the future with optionality and flexibility," said Belships CEO, Lars Christian Skarsgård.