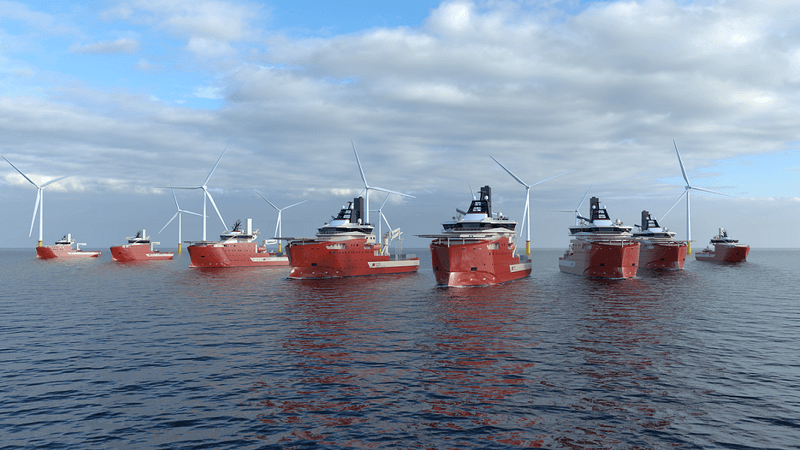 Photo credit: North Star
Norway´s VARD designer and shipbuilder of specialized vessels has sealed new contracts for the design and construction of two commissioning service operation vessels (CSOVs) for the UK's leading infrastructure support vessel operator North Star. The deal also has an option for two additional ships, which could ultimately create a total of up to 200 new seafaring job opportunities, across the CSOV fleet once operational.
North Star owns a large wholly UK-owned fleet engaged in the North Sea. The firm has committed to delivering 40 offshore wind ships by 2040 to meet the evolving demand of offshore wind operations and maintenance logistical support across the UK and Europe. Partners Group, a leading global private markets firm, acting on behalf of its clients, acquired North Star in 2022.
The firm placed in 2021 four SOV newbuild orders with VARD in Vietnam, all of which will support the world's largest offshore wind farm, Dogger Bank, on long term charters. The first three ships will commence operations this year, ahead of schedule, with the final to be delivered in 2024.
North Star CEO Matthew Gordon, said: "Ensuring speed of delivery for these ships was a key factor in our decision to select VARD as our continued building partner, demonstrating our commitment to building a versatile and leading service capability to meet the needs of our offshore wind clients."
VARD CEO, Alberto Maestrini, says the contract with North Star shows VARD's leading position in the market: "The new contracts with North Star contributes to strengthening VARD's leading position within the market for offshore windfarm support vessels. We are very proud of being selected by North Star and we will provide vessels with innovative solutions specifically developed by VARD for this type of applications."
The hulls of the agreed first two SOVs will be built at one of VARD's yards in Romania and outfitted, commissioned, and delivered from one of the yards in Norway. The delivery of the initial CSOV fleet is scheduled for the first half of 2025.
‍