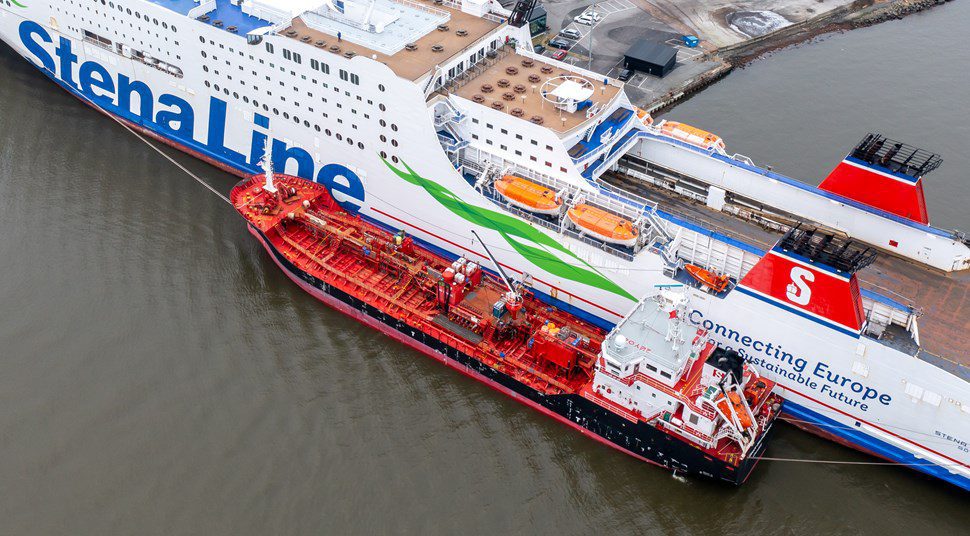 A milestone for the use of methanol as a marine fuel was achieved in the Port of Gothenburg on Monday, as methanol propelled vessel Stena Germanica was the first non-tanker vessel in the world to be bunkered with methanol ship to ship.
The bunkered ship was Stena Line's ro-ro and passenger vessel Stena Germanica, which until now has been bunkering methanol solely from trucks.
The Stena Germanica, connecting Gothenburg, Sweden with Kiel, Germany, became the world's first methanol-powered ferry, when Stena Line converted the 240-meter vessel in 2015 in partnership with Methanex, Wärtsilä, the Port of Gothenburg and the Port of Kiel.
The bunkering was made possible by a number of different stakeholders collaborating through the whole process. Stena Line is the owner of the vessel in question and the purchaser of the methanol. The tanker operator E&S carried out the bunkering itself in practice, and methanol producer and supplier Methanex provided the fuel.
"As the world's largest producer and supplier of methanol, we're pleased to continue our collaboration with Stena Line to demonstrate that methanol is a leading alternative, cleaner burning, future-proof marine fuel," said Karine Delbarre, Senior Vice President, Global Marketing & Logistics, Methanex.
"We welcome ship to ship bunkering as a tool to achieve a stable and efficient supply chain for methanol which is critical in Stena Line's shift to alternative fuels and to retain our position as a leader in sustainable shipping," said Maria Tornvall, Head of Sustainability at Stena Line.
The Port of Gothenburg has a long history of advocating and facilitating alternative fuels in the transition to greener shipping, and the aim is to establish the port as the primary bunkering hub for alternative marine fuels in northern Europe.
"This is a door-opening demonstration, proving that there is a feasible way to handle ship to ship methanol bunkering. This strengthens our position as a bunker hub and is also showcasing for other ports that this can be done in a safe and efficient way – not only here, but in other ports around the world" said Christoffer Lillhage, Senior Business Development Manager Energy at the Gothenburg Port Authority.
Source: Port of Gothenburg