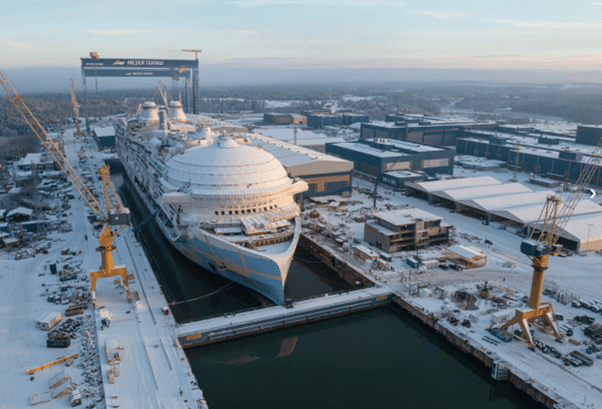 Royal Caribbean's most ambitious cruise ship, the Icon of the Seas, was floated out at the Meyer Turku shipyard in Finland where it has been under construction for more than eight months.
As part of the float out, the ship's dry dock was filled with water overnight. Once the dock was filled, Icon was then moved to an outfitting dock, which will be its home for the next year until construction is complete.
The ship will be handed over to Royal Caribbean at the end of 2023 and will set sail on its first voyage in January 2024. It will cruise from the US port of Miami year-round in the Eastern and Western Caribbean.
Icon of the Seas celebrated her float-out with a ceremonial cannon firing.
"Icon of the Seas is a state-of-the-art ship that challenges the know-how of our shipyard and raises the entire Finnish shipbuilding industry to a new level. This is also a significant step for the sustainable development of the shipbuilding industry," stated Tim Meyer, CEO of Meyer Turku.
"The float out of a new ship is a defining moment, and in the case of Icon of the Seas, it marks the next step in the start of a new era of vacations," said Michael Bayley, president and CEO of Royal Caribbean International.
Source: Meyer Turku