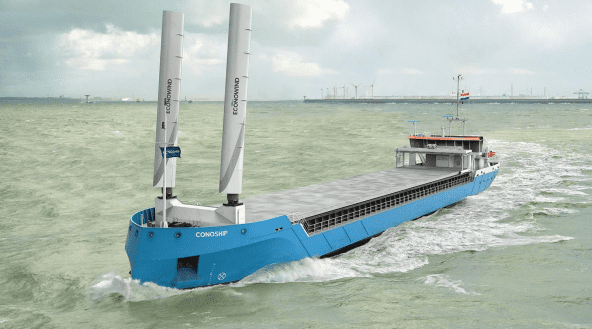 The construction of a new generation cargo vessel developed by Conoship International Projects started at Gelibolu Shipyard in Turkey and the ship is expected to be delivered in 2023.
This diesel-electric, and environmentally friendly 3600 tdw general cargo vessel is suited for sea-river operations. With its diesel-electric propulsion system, enlarged propeller in combination with a ConoDuctTail and optimised hull lines, its fuel consumption will be best in class, especially in wind and waves, as Conoship said in a press release.
The ship's design is ready for wind-assisted propulsion, as it is prepared for the placement of Econowind VentiFoils, which would reduce fuel consumption and CO2 emissions by abt. 10% annually, depending on the sailing route.
Two more of these 3600 tdw diesel-electric propulsion cargo vessels will be constructed by the Dutch based company Holland Shipyards Group.
It's worth noting that Conoship International Projects is working on a number of variants of the new cargo vessel, including a 3,800 tdw and 5,800 tdw version. A 5800 tdw new design concept is in development and will be brought to market soon.
Source: Conoship International Projects