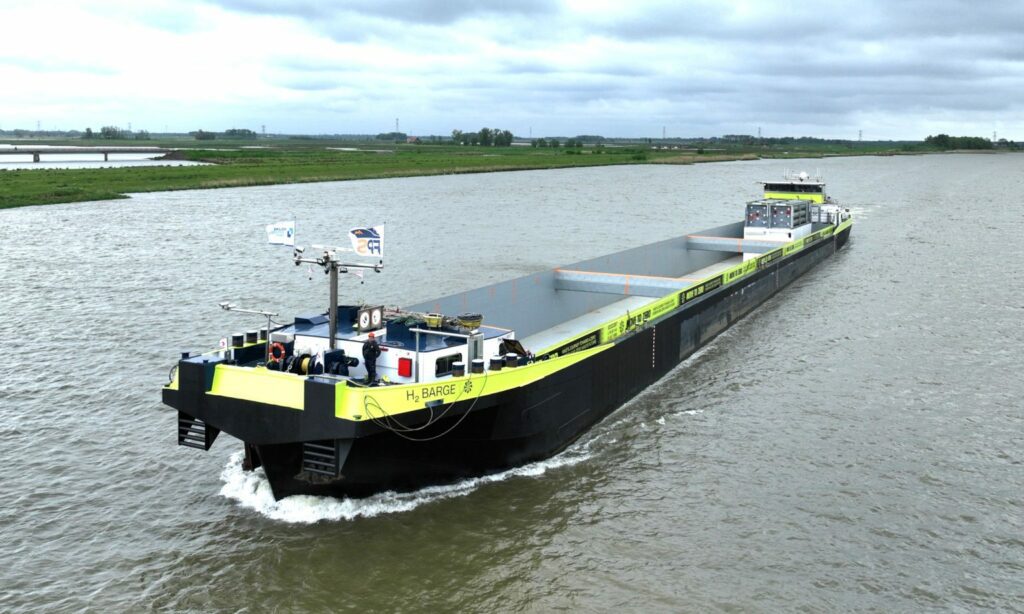 Photo credit: FPS
Future Proof Shipping (FPS) launched the first hydrogen-powered zero-emissions inland container ship H2 Barge 1 in Rotterdam, the Netherlands.
The 110m x 11.45m inland containership, H2 Barge 1, is chartered by BCTN, a large inland terminal operator, on behalf of Nike EMEA.
Nike introduced the H2 Barge 1 at its European Logistics Campus in Laakdal, Belgium. As part of its journey toward a zero carbon and zero waste future, Nike is partnering with Future Proof Shipping and BCTN, to accelerate zero-emission shipping.
The vessel, expected to reduce greenhouse gas emissions by 2000 tonnes of CO2e per year, will sail between Rotterdam and BCTN's inland terminal in Meerhout several times a week.
Dutch Minister of Infrastructure and Water Management, Mark Harbers, attended the ship's launching to present FPS Founder, Huib van de Grijspaarde, with a special A-Zero (A0) emission label awarded only to zero-emissions vessels.
Richard Klatten, CEO of Future Proof Shipping, noted that "this shipping project proves that moving cargo with zero-emissions and zero impact is possible, and we hope it accelerates the industry to follow in Nike's footsteps and move to zero. This is a pivotal moment, not just for Future Proof Shipping but for the future of shipping".
As a zero-emissions shipping company, FPS aims to build and operate a fleet of 10 zero-emissions inland and short-sea vessels over the next five years. The Dutch company will offer these new ships for charter to logistics service providers and cargo owners.