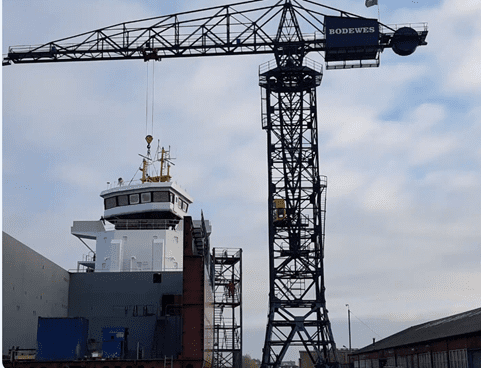 Photo credit: Royal Bodewes
Swedish shipowner and operator Ahlmark Lines AB has ordered two 5050 Eco Trader ice class 1A mini bulkers from Dutch shipbuilder Royal Bodewes.
Construction of the first vessel has already begun at one of the partner shipyards of Royal Bodewes in the Netherlands. This vessel is expected to be delivered in the second quarter of 2024.
As far as the second vessel is concerned will start at the end of 2023, with delivery expected in the fourth quarter of 2024.
With highest Ice Class 1A, the newbuilds are future-proof additions to the fleet of Ahlmark Lines, containing many sustainable aspects. For example, the vessel has a CLEANSHIP notation. Fuel tanks are clear of the ship's hull and emissions are reduced to a minimum, whereas loading capacity is high, as the company claims.
Furthermore, many European-made components are installed, such as an ABC main engine. The vessels are 5000 tonners and below 90 metres.
In line with tradition, Ahlmark has ordered these mini bulkers in the North of the Netherlands. In fact, the steel cutting for the newbuilds takes place at exactly the same location where Ahlmark had ships built in the late 80's.
Meantime, Ahlmark Lines expects to add two newbuilt vessels from China to its fleet portfolio arriving between 2023 and 2024.
Ahlmark Lines AB is the oldest still-operating shipping company in Sweden, as it has a track record of 175 years. The transport of forest products to the UK has become Ahlmark's core business.
It's worth noting that the fleet of the Swedish company consists today of 10 bulk carriers.