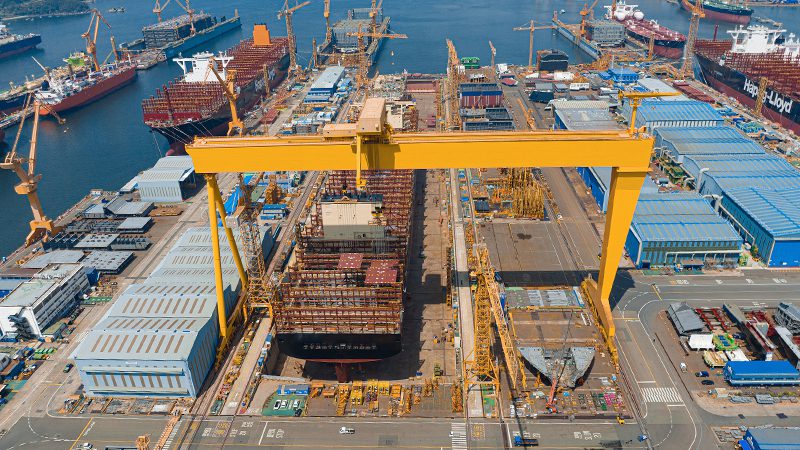 Hanwha Ocean's Geoje Shipyard, South Korea / photo credit: Hanwha Group
Daewoo Shipbuilding & Marine Engineering (DSME), one of the "big three" shipbuilders of South Korea, was officially renamed as Hanwha Ocean during an extraordinary shareholders' meeting held on Tuesday.
This follows the successful acquisition of Daewoo Shipbuilding & Marine Engineering (DSME) by the Hanwha Group which will further strengthen its position as a comprehensive energy solutions provider.
This moves comes as Hanwha looks to expand its footprint in global marine energy solutions and shipbuilding.
In the shareholders' meeting, Hanwha Ocean also appointed Hyek Woong Kwon as CEO alongside nine new board directors.
Five affiliates of Hanwha Group — Hanwha Aerospace, Hanwha Systems, Hanwha Impact Partners, and two subsidiaries of Hanwha Energy – became major shareholders of Hanwha Ocean, taking a combined stake of 49.3% through new shares worth 1.5 billion US dollars.
With the new launch, Hanwha Ocean will help expand Hanwha's green energy ecosystem by focusing on eco-friendly and digital technology.
The company besides its expertise in commercial ships such as LNG carriers, will continue to develop new low- and zero-carbon solutions.
Hanwha Ocean's Geoje Shipyard in South Korea, is equipped with top-notch facilities, including the world's largest 1-million-ton dock and 900-ton Goliath crane, which play a crucial role in producing high-quality ships and offshore plants.
Hanwha Ocean CEO, Hyek Woong Kwon, said that "leveraging Hanwha Ocean's foundational culture of pursuing technological excellence, we aim to become a globally competitive company that delivers steady growth with a focus on sustainable and eco-friendly technology."
Founded in 1952, Hanwha Group has grown quickly with a balanced business portfolio that includes energy & materials, aerospace, finance and retail & services.