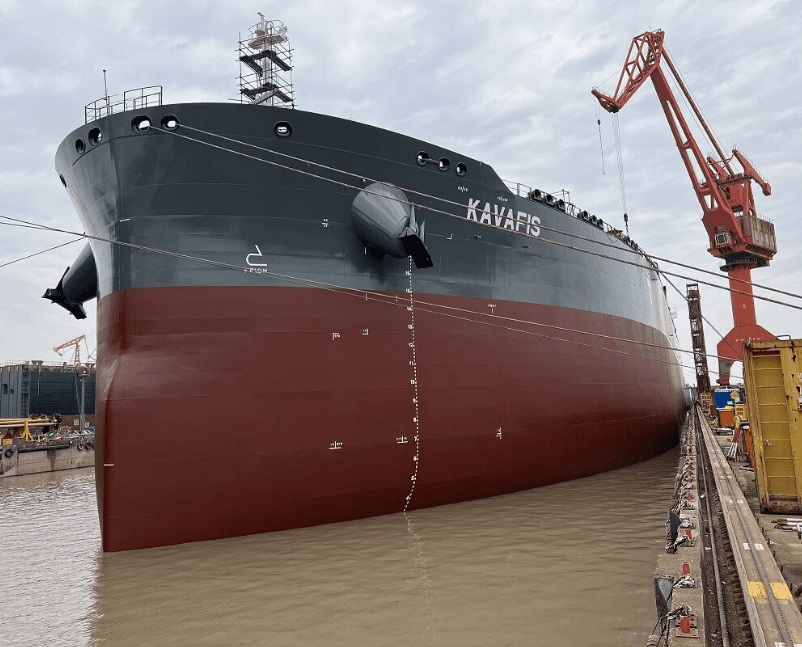 The Enesel Group, a large private Greek company, wholly owned by Andonis and Filippos Lemos, the current generation of the Captain Nikolas S. Lemos Family, has announced today the launching of the Aframax/LR2 vessel. Enesel S.A., which is one of the four shipping-related companies of Enesel Group, is announcing the launching of the Aframax/LR2 vessel, hull No. H1512 that was carried out on 30th of December 2022 at Shanghai Waigaoqiao Shipbuilding No.2 Dry-Dock.
The vessel, which will be named Kavafis, is the first in a series of three vessels ordered by the company. The vessel Kavafis will be classed by Lloyd's Register, and built to Hellenic flag requirements. She is scheduled for delivery in April 2023, as the company says today.
The Lemos Family through The Enesel Group operates one of the large privately owned Greek shipping fleets. For over 174 years, the Lemos Family gives its strong presence in the Greek shipping market. Enesel Group comprises four shipping-related companies, Enesel S.A., Enesel Limited, N.S. Lemos & Co. Ltd. and Enesel Pte Ltd, and employs approximately 900 seafarers and 60 shore-based personnel, while its activity is global.
The Enesel Group is one of the longest continuous presences in the shipping industry. It was founded in 1848 by Andonis and Filippos Lemos' ancestors, and has sailed the seas for more than 174 years.
Source: Enesel Group