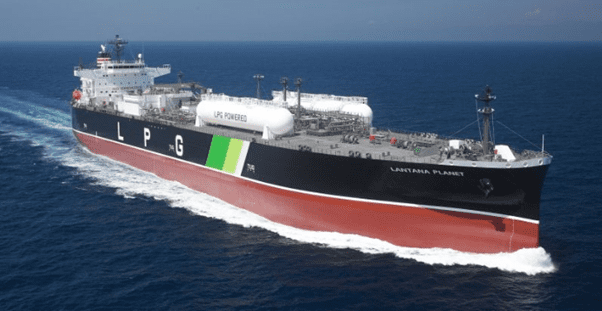 Japanese Kawasaki Heavy Industries has won a shipbuilding contract for an 86,700 m3 liquefied petroleum gas and liquefied ammonia gas carrier for United Arab Emirate´s energy company BGN INT DMCC. This is the first LPG/NH3 carrier for the energy company.
The vessel is equipped with separate cargo tanks designed to carry liquefied petroleum gas and liquefied ammonia gas at the same time. The construction of the vessels will be completed at its Sakaide Works in 2025.
One benefit of this dual-purpose vessel is its ability to transport at the same time both NH3, and LPG which is already used as a low-carbon energy source, in accordance with Kawasaki. Another advantage is the increased cargo tank capacity compared to traditional carriers, which was made possible without significantly altering the vessel's length, breadth, or other essential specifications.
The vessel design complies with the sulfur oxides emission standards set by the International Maritime Organization as well as the IMO's Energy Efficiency Design Index (EEDI) Phase 3 regulations.
This contract represents their 81th LPG carrier, 18th LPG-fueled LPG carrier and 11th LPG/NH3 carrier to be constructed by Kawasaki.
In the plans of Kawasaki is to develop and build in the near future more LPG-fuelled LPG carriers and other commercial vessels that meet environmental standards, as Kawasaki says in a statement.