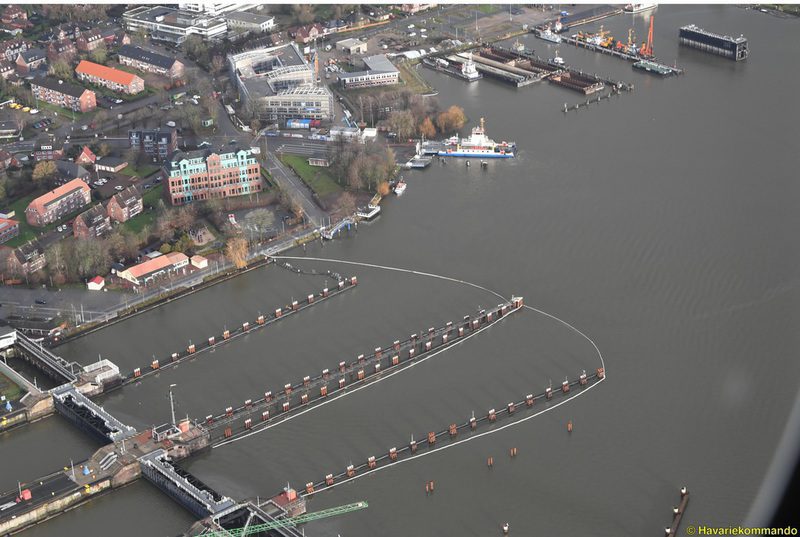 The Kiel Canal is to open for business again at noon today after an oil spill had stopped its operations, according to radio and television broadcaster Norddeutscher Rundfunk. As it is reported by Norddeutscher Rundfunk, the Kiel Canal (NOK) will reopen to ships at 12:00 hours local time. In accordance with the latest information by NDR, the channel has been released again, but the information given needs to be confirmed.
This decision, as it is mentioned, was announced yesterday by the Ministry for Energy Transition, Climate Protection, Environment and Nature. Accordingly, the responsible authorities had previously checked the technical cleaning. In addition, other authorities have also given the go-ahead for the release, as NDR says.
According to German authorities good progress has been made to prevent the oil spreading in order for the traffic on the Kiel Canal to be reopened to shipping.
However as it is furthermore pointed out more work needs to be done after the canal has been opened again.
According to Environment Minister Tobias Goldschmidt "even if the damage control is very advanced and traffic can now be resumed on the NOK, conscientious aftercare will keep us busy for a long time to come," as NDR highlights in its report today.
As it is furthermore reported by NDR, citing information from the Ministry, although extensive cleaning measures have been taken, the work is not yet entirely complete, as there may still be some residual oil left in the Canal and ships should proceed with extreme caution.
Source: Norddeutscher Rundfunk