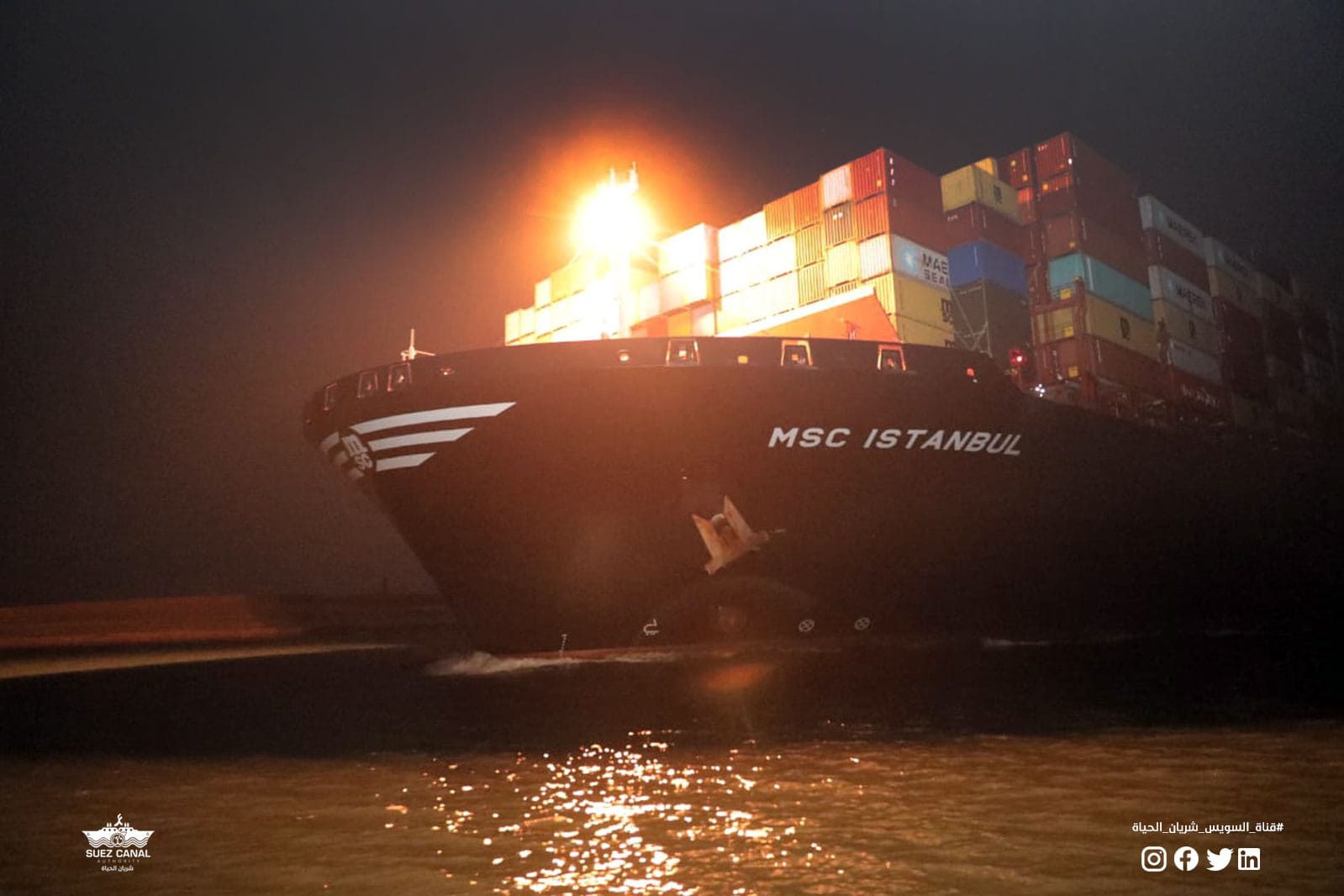 Suez Canal Authority succeeds in its efforts to refloat the grounding containership MSC Istanbul using its own tugboats, and the vessel resumes its journey through the Canal.
The salvage operations were successful to handle the grounding incident of the containership MSC Istanbul during its northbound transit, heading to Portugal from Malaysia, according to the current status of the Suez Canal Refloating Operation. Four tugboats were deployed to handle the grounding of the containership during its transit through the Suez Canal.
H.E. gave yesterday also a reassurance that traffic through the Canal is not affected by this abrupt incident, as all the South-bound vessels transited normally, and the rest of the North-bound convoy were instructed to transit through the Eastern waterway instead of the Western lane.
Chairman of the Suez Canal Authority, Admiral. Ossama Rabiee, pointed out that immediately after the central navigation control station, has received the notification that the vessel has run aground at km 78 (Canal marking), four tugboats were deployed at once to refloat the vessel, and one of the Suez Canal´s largest tugboats, Baraka 1. The four tugs are Port Said, of a bollard pull capacity of 95 tons, in addition to Mosaed 1, Mosaed 2, and Mosaed 5.
The Chairman of the Suez Canal Authority has emphasized the fact that the SCA has extensive expertise in the field of maritime salvage operations as well as the technical and maritime safety capabilities that enable it to deal with any potential emergencies in a professional manner.
Furthermore he expressed his gratitude to the crisis management team, that comprises of experienced members from the Transit Department including pilots, traffic control officers, navigation control representatives, as well as the crews of the tugboats taking part in the salvage operation, who all managed to deal with the incident with great professionalism, without impacting the traffic through the Canal in any negative way, as he said.