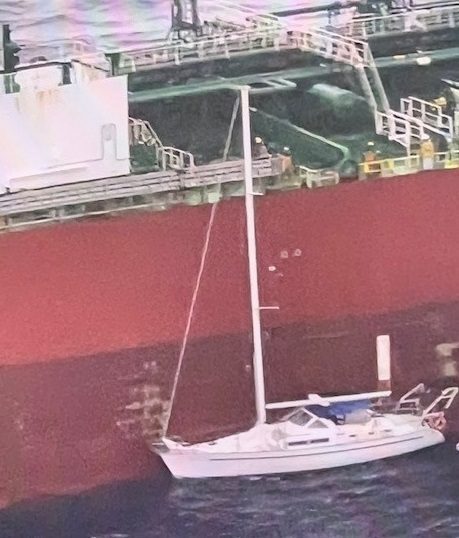 An individual in need of assistance on a boat was helped Saturday morning in the Caribbean Sea, some 57 nautical miles southeast of Puerto Rico, by members of the Coast Guard and the crew of the chemical tank ship Silver Dover.
An 80-year-old man, who was the only passenger of the 44-foot sailing vessel Tao when it lost steering and the boater lost the ability to concurrently use the emergency tiller and compass, is assisted.
At 1:45 a.m. on Saturday, the sailing vessel Tao sent a VHF-Channel 16 transmission to Sector San Juan watch standers informing them that it was in trouble and needed help.
Watchstanders from Sector San Juan of the Coast Guard set up a communication plan with the boater and issued a Marine Assistance Request Broadcast for any vessel traffic in the area that could render assistance.
Later, the sailing vessel Tao's connections with the Coast Guard went down, and then they lost contact entirely. Watch standers then ordered the launch of a Coast Guard helicopter to locate the sailing vessel as expected sea state conditions continued to worsen by the hour. They also transmitted an Urgent Marine Information Broadcast to alert nearby vessel traffic of a possible distress.
The Marshall Islands-flagged 600-foot chemical tank ship Silver Dover replied to the Urgent Marine Information Broadcast and diverted to help as search and rescue coordination activities went on. The tank ship Silver Dover came alongside the sailing vessel Tao and embarked the boater.
The Coast Guard aircrew then deployed its rescue swimmer aboard the sailing vessel Tao and turned on a Self-Locating Datum Marker Buoy to maintain awareness of the vessel's position, and advise vessel traffic to be on the lookout for the unmanned sailing vessel.
The tank ship Silver Dover reported the boater to be in good health and that he would remain aboard the tank ship until the ship reached its destination in Houston, Texas.
"This case highlights the well-known willingness of commercial shipping vessels such as the tank ship Silver Dover to divert from their regular routes to aid a fellow mariner," said Lt. Cmdr. Kimberly Shadwick, U.S. Coast Guard Sector San Juan Search, and Rescue mission coordinator for the case.
As it is furthermore mentioned, "We appreciate the coordination and response efforts of all the Coast Guard personnel and units who participated in this case and wish this boater a safe journey and reunification with his family and loved ones."